SOLD: TAD TD-2001 drivers on AzuraHorn AH-550 LeCleac'h horns
SOLD
Here's an opportunity to pick up a great top end combo.
Consecutive serial numbers on the TAD-2001 drivers. Original beryllium diaphragms, 8ohm impedance. In good cosmetic condition and fully, perfectly functional.
Excellent Azurahorn AH-550 horns have LeCleach profile, are a little more than 12" in diameter. Beautiful condition, a gorgeous eggshell white.
More information about them here:
Azurahorn -Le Cleac'h Acoustic Horns - Products
Shipping will be in at least two separate boxes. I package things extremely well and these will arrive in great condition.
SOLD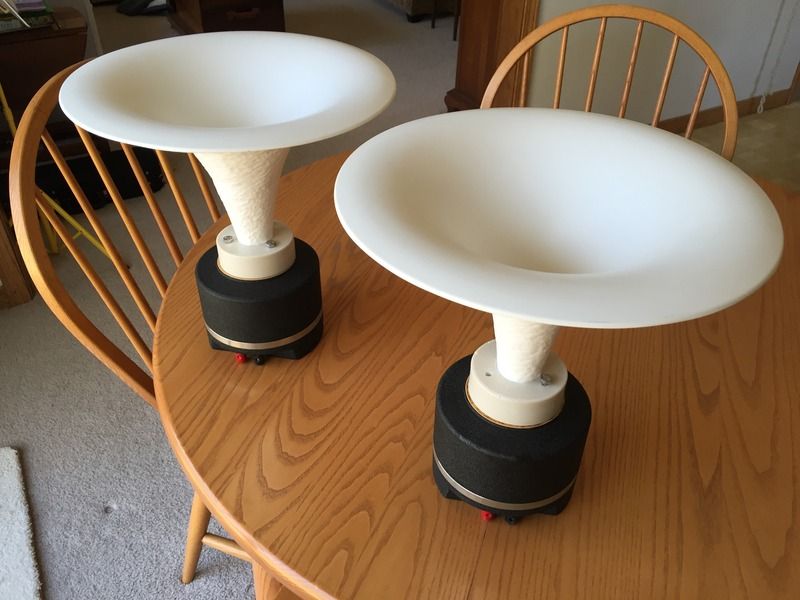 Last edited:

Hey Dennis!

Getting out?! Naw, if anything I am spiraling deeper down this wormhole we call a hobby! :-/

The hobby turns. Stuff churns. My wallet... yearns.
I've stabilized my system now and don't think I'll be experimenting any time soon.
Status

This old topic is closed. If you want to reopen this topic, contact a moderator using the "Report Post" button.