I'm selling my trusty DLP projector that I bought new back in April '05. The projector is in mint shape! It is still running off of the original bulb. It has about 2700 hours on it, but it's still going strong and will probably last at least another 1000 hours. The image this projector produces is excellent. Colors are vivid and natural, skin tones are natural, blacks are black, and with a HD image, it is very sharp and crisp. Even SD DVD's look great!
The SP4800 was mounted behind me on the wall. The image was thrown 16' onto a 106" screen and I sit 13' away from the screen. Not once was there any hint of SCE or even rainbow effect for that matter. This has been a flawless machine and I will actually hate to see it go because I know that it will never let me down.
Anyway, here's a link to the specs...
InFocus SP4800 Specs
Naturally, it comes with everything as I bought it. And as a bonus, it also comes with the ceiling mount that I bought extra for it. It's got the whole batch of cables and adapters so you can connect it to just about any source, including a computer's video output. It also comes with the remote and carrying bag. The only thing that isn't included is the owners manual. I looked high and low for it that past two days and can't find it anywhere. However, this projector is so easy to use, you won't even need the manual. The menu system is very well thought out and self explanatory.
I have seen a few of these sell for more than $600 in the last couple of weeks that weren't in nearly as good of shape and with several cables missing, one even without the remote!
So with that in mind, I am letting this one go for $500 plus shipping to anywhere in the CONUS. I use either USPS or FedEx Ground, whichever one is cheaper and I only charge actual shipping fees. As fas as payment, I only except PayPal. I have excellent feedback on eBay so I can definately be trusted.
And now for some pictures of the projector that I jsut took today before packing it up in it's carrying case.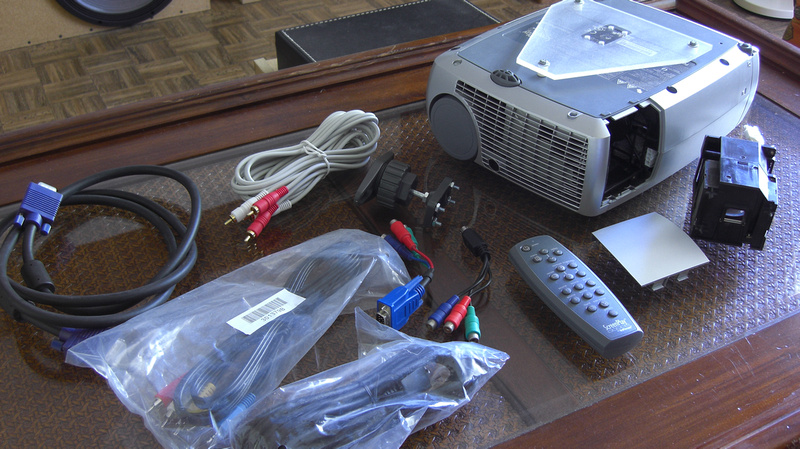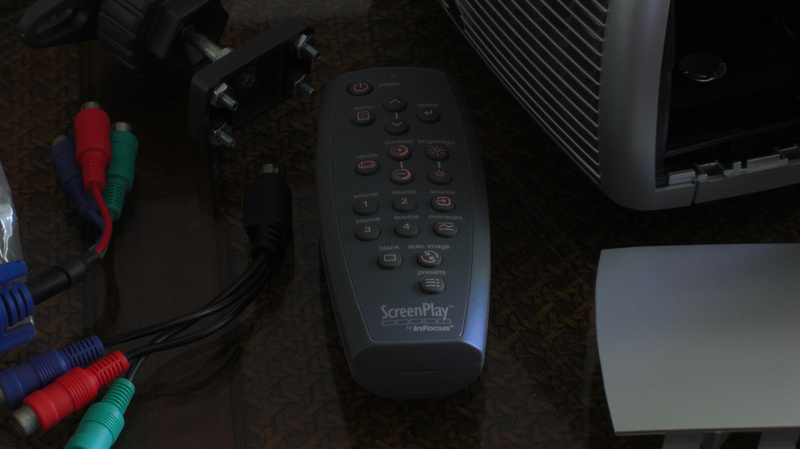 Here's a pic of it when it was still in use as well as a couple of screen shots. Please keep in mind that these screen shots do not do this projector any justice, but just an idea. The camera was set on spot metering instead of matrix metering, so the images came out a bit underexposed...