I'm currently moving to an 8 channel setup, and my BuffaloIII arrived today so it's time to pass on my old trusty 2 channel gear.
I have a buffaloII with legato I/V, a volumite, placid and placid BP mounted in a modushop Galaxy maggiorato case with airlink transfomers, 9-0-9 and 15-0-15 I believe. There's also an IR remote board that controls an alps RK27 motorpot (wasted, I know, but its the only motorpot I had). Input as it stands is by USB only using a DDDAC USB-I2S board. It has 2 sets of RCA outputs, so it can easily be connected to a power amp as well as a subwoofer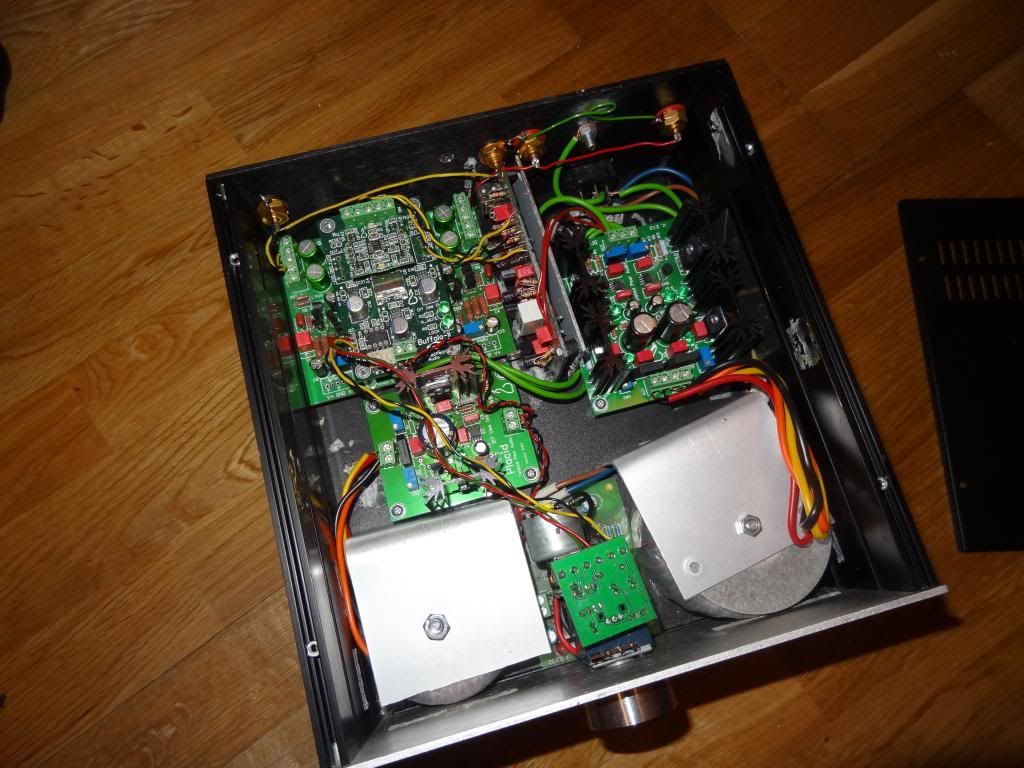 It looks beautiful and sounds even better and remote control is a huge bonus.
To be honest, I need PSUs for my new BuffaloIII and I'd like to keep the remote kit, but when looking at it, I felt it was a shame not to offer it as is, though the price will be quite high given that I'll need to replace several components.
So either:
BuffaloII+Legato I/V and volumite only - £200
DDDAC USB-I2S board (
DDDAC 1794 NOS DAC - Non Oversampling DAC with PCM1794 - no digital filter - modular design DIY DAC for high resolution audio 192/24 192kHz 24bit
) - £20
OR
The whole thing, fully constructed, tested and working sweetly, thats 2 xformers, with shielding, Placid, Placid BP, IR remote control board, Alps RK27 motorpot, volumite, Legato, BuffaloII, DDDAC USB-I2s, modushop case and rear panel connectors.
Gathering all those parts in the UK cost a small fortune and the time spent building was significant.
I'd be looking for £500 for the complete finished unit.
I also have a fully constructed dual monoblock amp with 2 "Industrial gainclones" by peranders sjostrom:
Sjöström Audio - QRP02 The SMD Gainclone - high performance mono power amplifier
.
They have onboard PSUs, so only require a transformer to be fully operational.
Also in a modushop case, with 2 25-0-25 120VA transformers.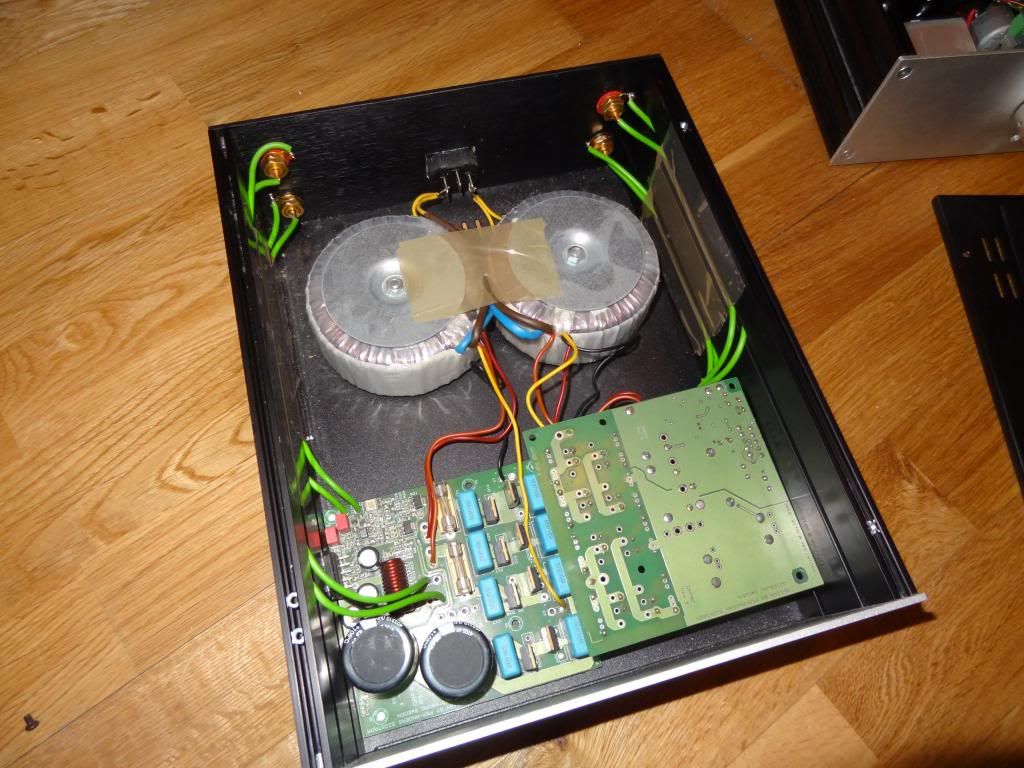 Again, I'll either offer parts of the complete unit.
Industrial gainclone boards: £40 each
Transfomers: £10 each
Complete unit: £150
These units were built to sit together and together make a truly excellent stereo source/amp combo: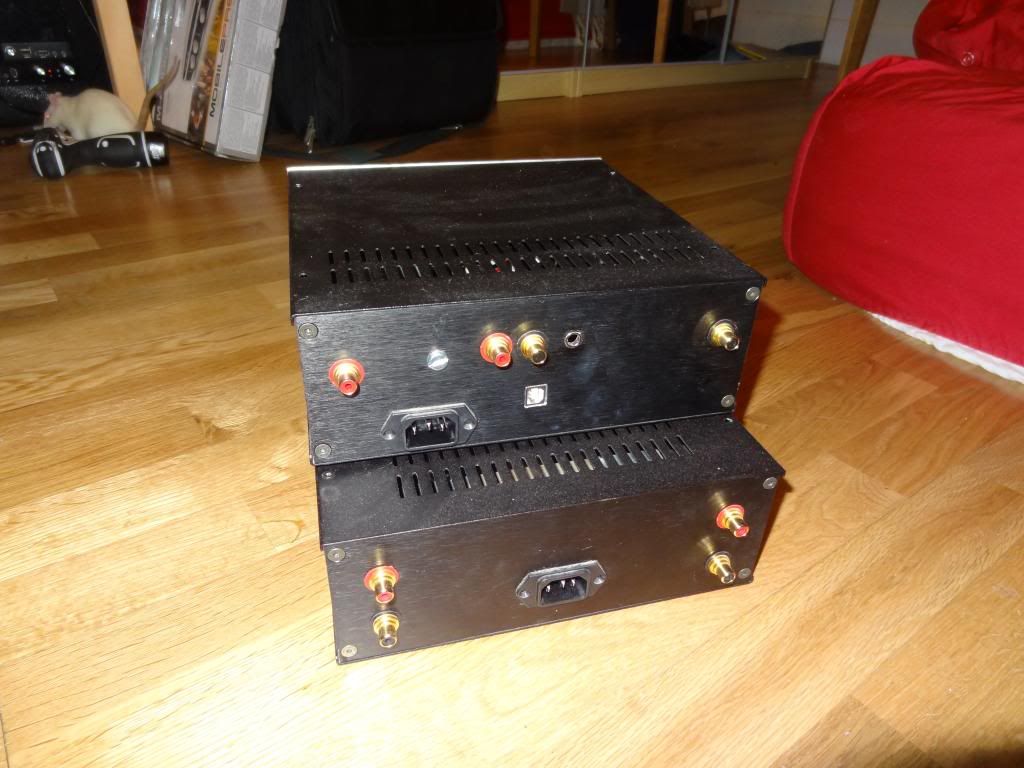 If someone is interested in taking both, let me know and maybe we can work something out.
Thanks
Last edited:
I'm quite keen to pass on the buffalo DAC fully built, as it does work so well and look so good in that modushop case. It seems such a shame to deconstruct it.

I'll reduce the price to £450 which honestly, I think is a steal. It's a significant loss on the cost of the parts that have gone into it, and TPA gear always retains it's value well
Hust to give an idea of the parts cost that went into this DAC (including shipping to the UK and customs fees etc:

Case - £50
Chassis connectors and knob - £15
Transformers - £35
Alps motorpot - £30
IR control board for pot - £25
DDDAC USB-I2S board £50
BuffaloII - $260
legato - $90
volumite - $30
placid - $60
placid BP - $90
That totals $530 or £340 + £75 customs fees.

Total £620 just in parts. I'm going to leave it up for sale for a couple more days, and if noone wants it, I'll split it out for parts

The amp, I'll reduce the price to £120 - that's case, transformers, and amp boards for a fully operational (and great sounding) LM3886 dual monoblock.
In case anyone was wondering, the outputs on the amp are RCA, simply because that's the connectors I had when building. I can include the speaker cables I use which are terminated with RCA plugs to fit, or you could swap them for more traditional binding posts
Status

This old topic is closed. If you want to reopen this topic, contact a moderator using the "Report Post" button.