a retired tv tech offered me about 200 tvs and radios to scrap, managed to recycle the crappy plastic tv sets, found a bunch of old tube radios and this beautifull amp.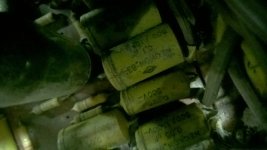 Its very very dirty and rusty, maybe i'll strip it, repaint, recap etc, maybe use the valves and transformers to build other thing, what do you think?
valves are all mullard ecc83 on the preamp sections and 4xel84 ,2 on each channel on push pull configuration.
the yellow caps look like wax type and some are cracked.
electrolytics look fine but maybe they are not
it is also missing a knob
Last edited: