Howdy. Todd here.
I was at a swapmeet, and saw a pair of speakers that were in individual shipping boxes, and one speaker with no shipping box that was smashed up and missing woofer. I noticed that the speakers were Fostex, and had ribbon tweeters and ribbon mid-ranges!
The lady wanted 15 dollars for each one. I didn't want to unwrap the plastic and mess with them. They seemed to have a funky little 3-way crossover box with them (simple 1st order?) which said "for rp-7 or rp-9". It looked to be missing parts, so I just moved on.
Well, I had already been stewing on some speaker projects and lurking on this (and other) audio/DIY websites. I decided to go back today with a double A battery to test the drivers. I opened up the boxes, and took the speakers out completely. I plugged in the crossover network to speaker wire harness (pictures show proprietary Molex style plugs for the crossover and speakers). Then I touched the battery to the crossover input and only the mid-range worked. The woofers did not work, as their surrounds are trashed and coils may have been blown. I then disconnected the crossover network and tested each speaker at the Molex plug. The mid-range and tweeter sounded good to me
I was happy that the broken third speaker was there, as the grille was trashed and I could see the mid-range and tweeter up close. The grilles are glued on, and I have to rip them off to take out woofers
They are now in my possession. I just took some pictures to share with people and see if ANYONE has ANY info on these. I don't know where to get specs for the ribbon units, or the speakers as a whole. They seem somewhat old (80's?) and I cannot find a single iota of information on the interwebz. I also had to tear grilles off, as they are glued on. I took one picture with grille on so you can see what it looks like.
I have strong basic knowledge of speaker design. I have custom built more subwoofer boxes than I can count, including 4th order bandpass, many sealed, and few ported. I have built simple passive crossover networks (2-way, different orders). I have built speakers from well designed kits with entry level speakers.
I was thinking these drivers could be used for a fun project. Alas, I have limited experience with ribbons, and also no specs to start with.
No testing equipment at all.
I am in SoCal LA area, so if anyone has some cool ideas for me to start with as far as making custom enclosure, and maybe a quality crossover network... I would greatly appreciate it.
This is my first post, so sorry it's sooooo long. But I enjoy telling stories, and you can never have too much info
Well.. Here are some photos.
By the way, the crossover says 4ohm, and the woofer says 4ohm...
If the photos do not work, it is because I could not find a test forum on this website for checking to see if I am doing it right. I am new to this site, but not to forums in general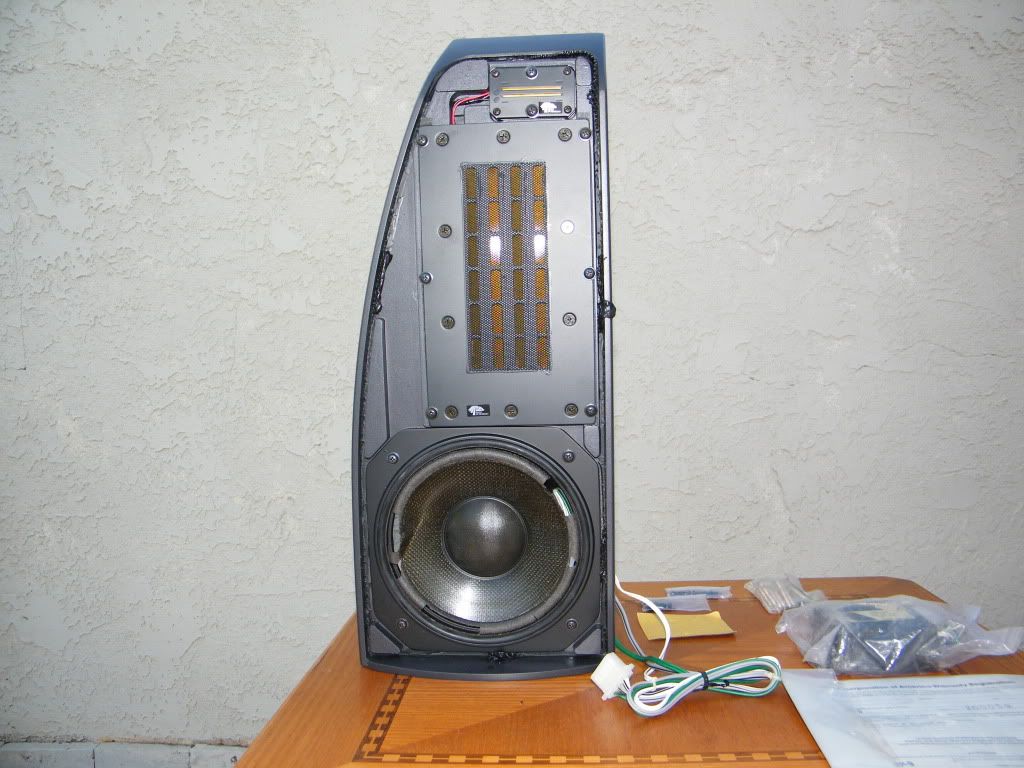 [IMGDEAD]https://i186.photobucket.com/albums/x143/fast84gti/DSCF0336.jpg[/IMGDEAD]
[IMGDEAD]https://i186.photobucket.com/albums/x143/fast84gti/DSCF0332.jpg[/IMGDEAD]
[IMGDEAD]https://i186.photobucket.com/albums/x143/fast84gti/DSCF0333.jpg[/IMGDEAD]
[IMGDEAD]https://i186.photobucket.com/albums/x143/fast84gti/DSCF0334.jpg[/IMGDEAD]
The back of the cabinet has threaded bolt holes. I have no clue what this would bolt to! Can't put it on a solid wall, as you would not have access to nuts! Maybe it was put on a board, then in wall as infinite baffle? I don't see any felt or type of sealer for woofer baffle where it might attach to a box. They barely stand on thier own, so they are most definitely not OB speakers
The panel appears to be made of some composite. The woofer has decent basket and magnet. Woofer on one of these is not good, as some dork pushed thier fingers in from behind. Surrounds are totally trashed as expected. I have no intentions of fixing the woofers, or using original panel with new woofer. This will be a "from scratch" project to help me learn more about crossovers, and different baffle options
Since the crossover is 4 ohm, I was considering using an 8" Infinity Beta series car woofer I have, and put it in a small sealed enclosure. Make a panel for the mid and tweeter drivers, and place on top of box to see what happens. This crossover network looks very small. Like something you would get with a cheap set of car audio components
I am going to open them up... Don't need the cover, anyhow. If anyone needs to see a picture of crossover, I will take a picture.
Thanks for your time. I appreciate it. Any input or ideas are welcomed. I am hoping I did not waste 30 bucks on these
I will experiment with them tonight and tomorrow.
Todd