Hi everyone, been a lurker for a long time. Now the time has come for me to start building speakers.

I have my eyes set on a full range speaker with a single ff165wk (If possible I want to build something that could later turn into a dual ff165wk Or even a 2.5 way thing if need be.

My plan is to built it in 18mm mdf since I have a lot of it lying around. And the baffles would be two glued together, 36mm.

I would like to build towers or around 90-100cm (34-38 inches?) High.
I don't want to build bookshelves and put on stands since my kids are running around the house. And I feel a tower will be a more stable option.

Now to the question? Where do I find plans or a calculator for the task? Google gives me nothing I understand. There's a lot of plans for bookshelves or overly complicated bass flugel horn things that are the size of an elevator.

Could I build it after fostex design and simply lengthen the box?
More advice to follow likely - ranging from choice of drivers to enclosure design and construction materials. Let me be the first to counsel against MDF in general, and certainly for a driver with the low frequency capability of the 165s that 1.5" front baffle of any material would be overkill.

If you want to learn from the ground up, as sreten says it can be longer journey than just plugging driver specs into an on-line calculator. There should be any number of vetted designs for this driver - and if by "bass flugel horn things" you mean the Planet10 FHXL - it's considerably smaller than an elevator - i.e. overall dimensions are approx 36.5" H x 9.5" W x 21.125" D

frugal-phile™
Joined 2001
Paid Member
If you find the
Frugel-Horn XL
is too large, we have done a Compact FloorStander (CFS) for the FF165wk. Performance is not as good as the FHXL but it is considerably smaller than the FHXL.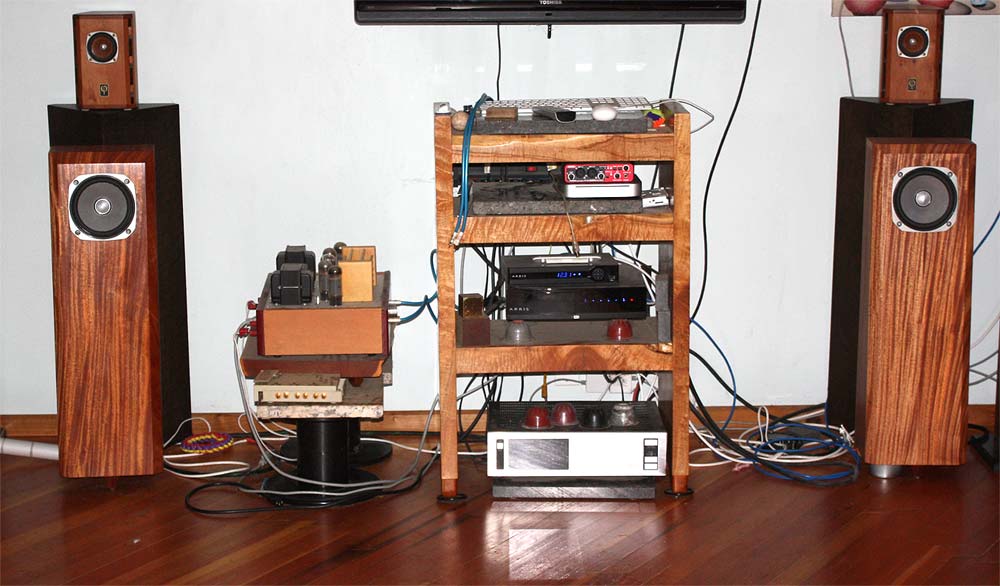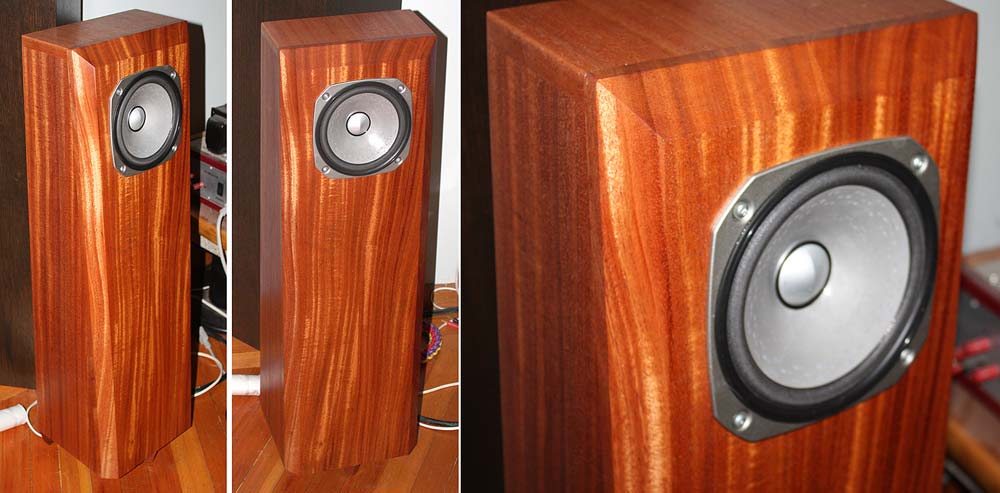 These done with 1.5" solid (mahogany?) front baffle and vent out the bottom.
dave
yup, looks like Mahogany / Sapele to me - that 1.5" front baffle will have some pretty serious chamfering on the inside of driver hole

gorgeous work as always by Bernie

for an idea of relative sizes, these happen to be with Alpair drivers, but the enclosure dimensions are essentially the same as would be with Fostex.

From front to back - CFS for A10P, FH3 with Alpair MAOP7, and FHXL with A10.3
Last edited:
Elliptical baffle and radiused front edges are optional, I think?
All true. Only the insides are sacrosanct.
Bob
Status

This old topic is closed. If you want to reopen this topic, contact a moderator using the "Report Post" button.