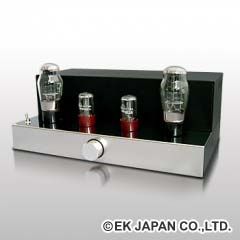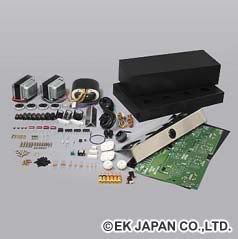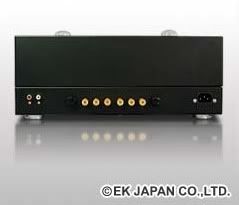 A new ELEKIT's vacuum tube amplifier with 2A3 tubes that enjoy deep-rooted popularity among
audiophiles will be released later this year. The model is a single stereo power amplifier with
double amplifications by "6SN7GT" in the voltage amplification stage and "2A3" in the output stage.
Inheriting some specifications seen in current ELEKIT tube amplifiers, such as DC heater supply for all tubes, ripple filter by FET, and R-core power transformer, some new features will be added, such as a space that allows installation of a large oil capacitor, Vitamin-Q for example, without modification, improvement of discharge characteristic by adopting Schottky barrier bridge rectifiers, and separate fuse for L-ch/R-ch in B supply.
Vacuum Tubes 2A3 x 2pcs, 6SN7GT x 2 pcs
Rated output 3W+3W (THD=Rated output 10%、1kHz、when 8Ω)
Rated input 450mV
SN ratio Approx, 102dB, residual noise 0.05mV (when 8Ω)
Frequency response Approx. 10Hz-50kHz (when -3dB 2 W output)
Speaker impedance 4 - 16Ω
Input terminal LINE x 1 (Gold-plated RCA)
Output terminal Speaker output terminal (4-6.3Ω, 8-16Ω)
Gold-plated screw-type terminal
Single/dual (19mm pitch) banana plug can be used.
Power supply AC100V 50/60Hz (3P inlet)
* 115V, 200V, or 230V specification available by changing the connector
position upon assembly.
Dimension W370xH190xD270mm (incl. projections)
Weight 10kg
Last edited:
Victor,

Do you have this in stock?

Power supply AC100V 50/60Hz (3P inlet)
* 115V, 200V, or 230V specification available by changing the connector
position upon assembly.

That means will work in countries with 220-240v standard current?

Any listening impressions you have?

-Zia
Hi Zia
Yes, I have Tu-8230 in stock.
Yes, TU-8230 will work in 220-240V area.
==================================================================
Hi victor,
I have been enjoying my TU8230.
I replaced the capacitors as you suggested.
I have some other tubes I was thinking of trying.
JJ 2A3-40
and
TUNG-SOL 6SN7GTB

Would these be ok to swap, or would I need to change something else?
Thanks
Mic
==================================================================
Hello Victor
just wanted to give you my first impressions/critics about the TU 8230
after playing the kit with JJ Tesla 2A3 along with EH 6SN7, I just rolled on tubes with my Emission Labs and 6SN7 NOS Sylvania huge difference, the bandwidth has an obvious extension, much more overall guts, the low register is real tight and punchy even at low listening level, the amp sounds more powerful with my Supravox speakers, volume knob on 9 o'clock position, it is already loud !

I must spend more hours of listening to give you a very proper point of viex, but so far so good ! vey nice product, once again.. did you have yet any other feedback from other customers ? am I the only one in Europe to have built it ?
Jac..

Thanks
Victor
Last edited:
Hi Victor

Just wanted to let you know I really enjoy The TU-8230. After about 40 hours of burn in, the sound starting to open up a little bit. All with stock parts that came with the kit. It reminds me of the Sun Audio SV2A3 years ago that I no longer have, because
of low level hum. TU-8230 no hum no noise just clean sounding amplifier. It is the best sounding from Elekit. In the near future I may swap out the 6SN7 with 6SN7EH
standard pre-driver tube. Over all I'm very much impressed.