Hello all,
I'm putting together a very cheap pair of 3' floorstanding speakers with some parts I have on hand (10" car woofers and midbass/tweeter drivers cannibalized from some nicer quality bookshelves) to use at parties and such. I'm spending less than 50$ on this project (mainly MDF) as I have everything on hand, and I'm not looking to spend any more
My question, though, is whether I should have a separate chamber for the bass woofers. The 10" woofers achieve a Qtc of around 0.69 in a sealed config such as this, and in 12x12" boxes had no issues hitting 31hz with only a -2db dropoff (though it was much steeper under 30hz).
I see most loudspeakers utilize a single chamber for all three drivers, rarely do I see compartmentalized designs such as this - so I'm wondering if there's a distinct disadvantage to it.
I'm open to opinions, but in the diagram below, red MDF divider between the bass and midbass/high chambers?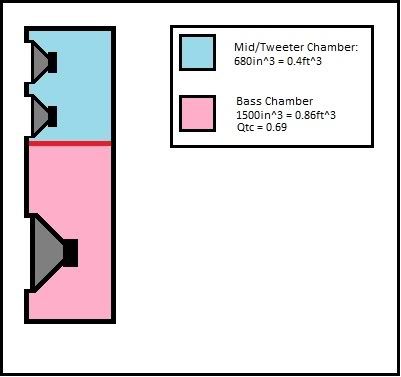 I'm also still arguing with myself if I want to port the top chamber and tune it for midbass to take some strain off the woofer, but that's a subject for another thread
Cheers!