EDIT: Sep 15 2019. It is advised to read the whole thread before start doing anything with your soundcard. There are revisions that make previous posts invalid!
Honestly, this
Test & Measurement interface for Soundcard
together with ARTA was more than enough for my humble tube projects. But it couldn't do impedance measurements with ARTA limp. It has been explained that those cheap soundcards don't have adequate input channel separation for this job. Understood... So, I spent the double
and got UMC202. I was pleased to see that as is from the box it does excellent impedance measurements without even requiring the headphone output for reasonable loads! And with an amp -Rod Elliott's workbench amp fitted with ARTA limp probe- it can measure coils with very low DCR. If anything else, it would be a keeper just for this. But I wanted to explore possibilities for FFT as well. The short answer is not as it comes from the factory... Bellow is the best I could get.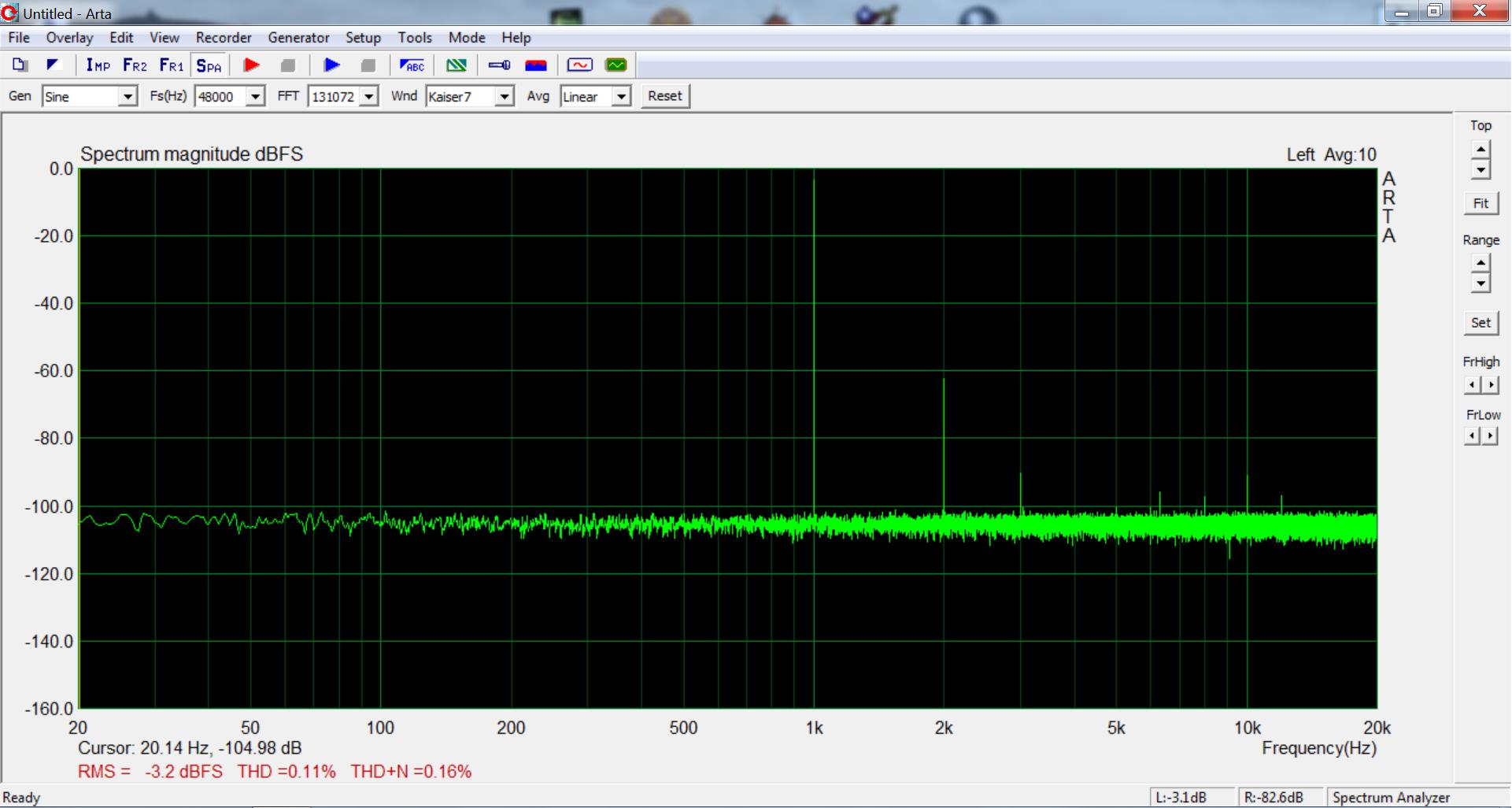 It makes sense. It has high gain input preamps and perhaps tuned for some musical distortion. I decided to tweak it based on some empirical experience from previous similar projects. What I thought it would be a weekend's project, it took more than a month -OK, half an hour per day. So I managed to isolate the audio codec converter
http://www.mouser.com/ds/2/76/cs4272_f1-43250.pdf
-ADC/DAC- and its input buffer and immediately there was a significant improvement in performance.
Still, two problems. It was clear only up to -17,6dB and there was a high frequency peak - here at 9kHz but from day to day I've seen it anywhere between 8 and 11kHz. It took a lot of sniffing around, mostly because of my ignorance. You can read here a small part of it
SE to BAL conversion with active filter
The conversation and some more reading helped to find my way at least to some point. This paper was very helpful
https://d3uzseaevmutz1.cloudfront.net/pubs/appNote/an241-1.pdf
. At page #5 there is what I found inside the UMC 202 more or less. There were some differences -red in the schematic bellow
Too high output resistors for the op amps and another one across the differential inputs. I've seen that in some designs marked as "optional". Perhaps an attempt to avoid hard clipping as this soundcard is primarily meant for musicians? I can't tell. But I know that replacing the 1k resistors with 91R and removing completely the 10k resistors was another good step.
Unfortunately, the high frequency peak is still there together with its k2 harmonic and +/-1kHz IMD. The graph would be much cleaner without it. I made the thought that the capacitor circled in red in the previous schematic could be responsible for this -very low? I tried to add 1nF polystyrene caps in parallel with them. I think I saw a tiny improvement but I can't tell for sure. Any ideas about this would be very much appreciated. I can provide some more info about that.
So, at the end the feelings are mixed... I could spend a little more, or maybe a little much more
and get something ready that does better, but I started from very little money and stayed there, plus DIY satisfaction and knowledge gained. I was even tempted to design a soundcard from scratch but it is the software that repeals me. The driver's functionality is very important and I've seen manufacturers failing in this domain. Apparently, Behringer does this right.
I talk about Behringer, ARTA and Pete Millett's PC interface. I do not have any relationship with these other than I use them as a low cost measurement rig.
In case anybody would be interested on the modifications, I can provide all the details.
Thanks for reading!
Last edited: