Hi!
I've made quite a few solid state amps and stompboxes, but this is my first tube project, and I'm a novice in this area. The idea is to make a preamp for bass (though it should work for guitar as well) that produces a fat line level tube sound that I can then patch to a big SS power amp.
My goal is to get an amp that can deliver a nice clean sound, but that will distort when pushed, much like an ordinary tube head.
The basic principle is a 12AX7 preamp with a 6L6GC (or similar) power stage. I would then use a false load and attenuate the speaker output to line level. I've thrown in a Hamond 125DSE 3W output transformer in this schematic, but I could use the 5W or 10W version if this one doesn't cut it.
My major concerns are:
1) How should I bias the 6L6 to match the output transformer, or should I have a larger trafo to begin with? The idea is to be able to overdrive the output tube if need be.
2) How does the transformer power rating impact the sound?
3) What plate voltage (or B+ from the power trafo) should I aim for? I don't need a huge amount of gain, but the output tube should overdrive when pushed. (This is really a smaller concern, because the resistors in the PSU are cheap and easy to change if proven wrong.)
Other comments or questions are welcome as well! (Normally I would just try and see how it works out, but changing transformers will get expensive in the long run...)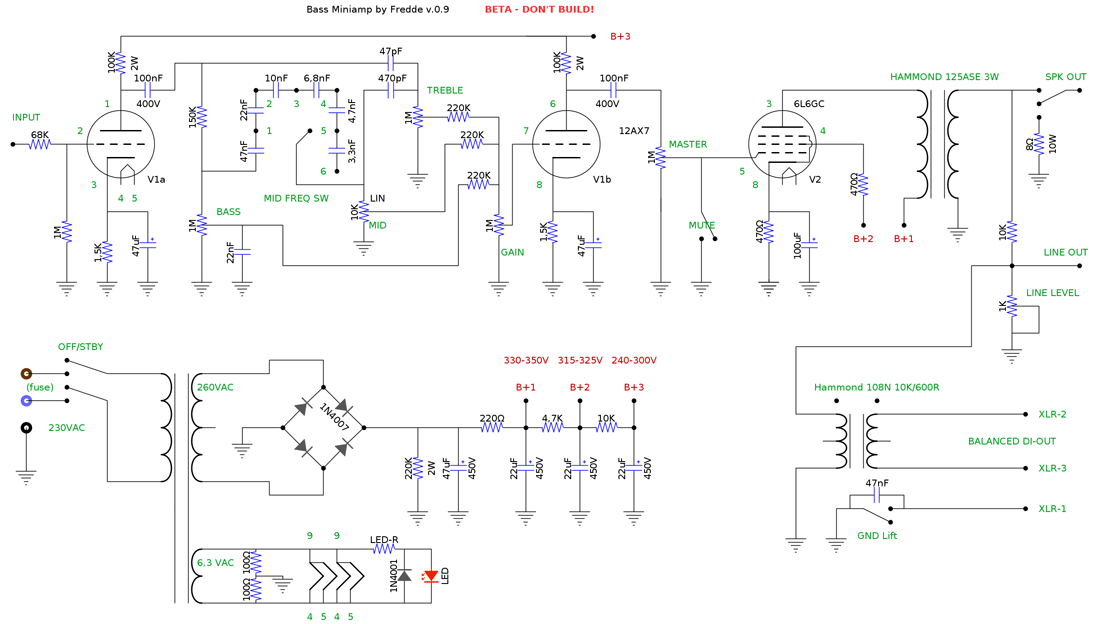 /Fredde