Folks, I wanna know what kind of drivers are used in the $22,000/pair mm12. They are all Scan, but which model is I wanna know.
The p-p xmas of the drivers (tweeter excluded) are 2mm, 13mm and 25mm, all aluminum. I did some cross check.
Tweeter: R3004/602010
2.5" midrange: maybe not from Scan
7" woofer: some small version of 23W/4557T00 i guess
12" subwoofer: slightly modded 30W/4558T00? The one in the mm12 looks kinda flat.
Some pics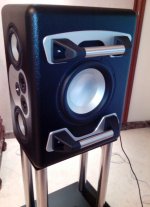 The tweeter is one of the R2904/6020 models. Hard to tell the chamber size.
2.5" mid is a Vifa/Tymphany NE, model NE85W.

The 8" and 12" are not Scan-Speak drivers. (A 23W is an 8" woofer, BTW.)

I thought the 12" were Wavecor drivers, but they don't have 'invertiflat' dustcaps.

Later,
Wolf
Status

This old topic is closed. If you want to reopen this topic, contact a moderator using the "Report Post" button.