I was extremely fortunate to get a hold of an H2 kit. As a newb/noob/putz, I am learning a bit of the theory around what might make things "sound good" TO ME. I am fortunate to not have an opinion one way or the other. I love my measurement gurus that chase out every last bit of distortion, and I love my vinyl, tube, and secret sauce junkies. This is a hobby for me, so I learn as I go. So far it has been a blast.
Since there really isn't a "build guide" so to speak for this, and there are few things I ran across that might trip up a few people – I thought I'd post some pictures of my build. If other relative newcomers got a hold of one, it may help. For others, it may just give you a chuckle.
This is not a substitute for Nelson's article or the primary thread on the subject.
Here's all the goodies.
Here's "THE" bag. Per the article, pay special attention to the number on the bag.
Write it down and/or don't lose the bag! You need this number!
Also, make sure you have good enough glasses to read the part numbers. The parts look pretty similar in the bag. They're not. Two of the FETs and two of the regulators.
Here's all the parts laid out. You will need a 24VDC PSU, some I/O jacks, and a case also.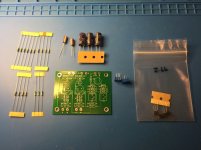 The board is really well laid out for ease of soldering with plenty of space between pads to avoid bridges. Also, most parts are mirrored for each channel.
I am new to a lot of this, so I label all of my resistors after measuring each of them with the DMM. Everyone has their own "tricks" or favorite ways. I haven't mis-stuffed a board yet... knock wood.
Keep a copy of the schematic at hand...
I stuff from small to large and tick off everything on the schematic as I go. Of course, I say that... and just noticed that I did not tick of the pots
To be continued...