Hello!
I've seen lots of posts with different "onken" type of enclosures for several different kinds of speakers. They all look amaizing
But I can't find how they compare with a normal bass-reflex, for example.
Which are the advantages (or disadvantages) of building an *onken (Fonken, Mar-Ken, uOnken, ...) instead of a BR?
I'm a newbie to speaker DIY building, so please don't be so mean
I plan to buy an Alpair 10.3 and build an enclosure for it (stil don't know what kind of, maybe a Mar-Ken, that's why I'm asking
)
Thank you!
Hi tipex,

I have built a few of P10 Dave's Mini Onken designs with Mark Audio drivers. What I have experienced is that these designs give tight articulate bass and image well. If I am not mistaken, P10 Mini Onkens are also bass reflex cabinets, but Dave uses high aspect ratio slot ports which in theory should help give a tighter and more controlled bass response vs a typical bass reflex.

If you look at the designs with wide chamfers (mostly part of paid plan sets) - these should help with speakers sounding less boxy, as the chamfers are pretty wide compared to the overall baffle width.

I think they look pretty nice too.

Now there are trapezoidal designs too - look nicer but I am guessing a bit more challenging to build.

But if you are looking to maximize your low frequency extension, then you will do better with MLTL designs or FH-XL.

frugal-phile™
Joined 2001
Paid Member
To expand on what Zia said…
The miniOnken are not officially Onkens in the sense of the way they are tuned. They only borrow the characteristic high aspect vents from Onkens?
The tuning involved cannot be directly simmed as the modelers do not account for the high aspect vents and there is an extrapolation step made (in my head). The high aspect ratio vents add an R to the vent equation which makes the box less sensitive to dynamic T/S changes (whether due to the dynamics in the music or where you set the volume control) so unlike a typical BR box which are often out of tune more than in tune. This yields a very controlled, finessed bass, but it only goes down as far as it goes -- not as far as a Pensil (ML-TL) or Frugel-Horn.
Enclosures also tend to be relatively small. For those that want more bass that often makes an integrated helper woofer possible. From small to large.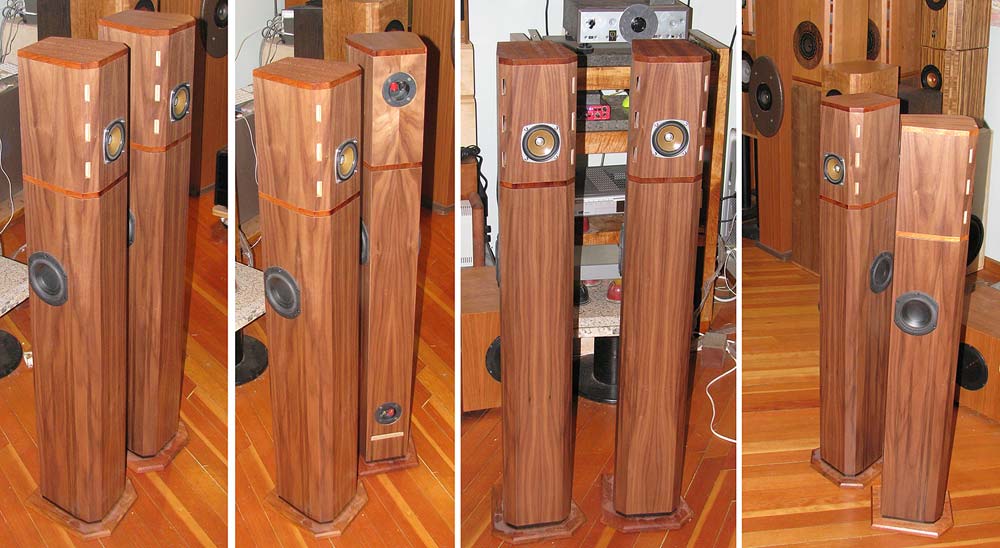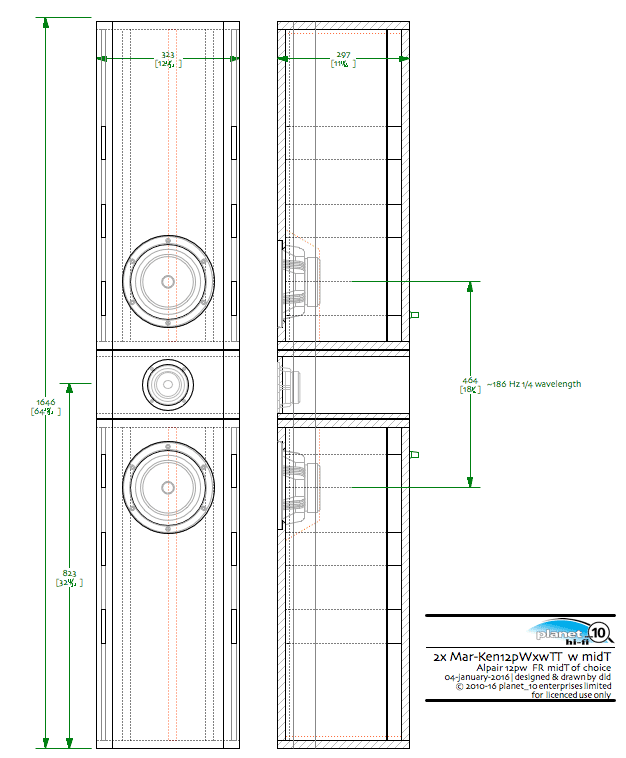 If you ignore custom variations of the miniOnken, the actual designs fall into 5 basic categories: the original rectangular box with the vents & the big champhers on the side, the trapezoidal versions of the same format, Classic Golden Ratios (CGR), Compact Floorstanders (CFS), and nominal centre enclosures. The last 3 types are typically easier to build. One goes to the harder to build full-on miniOnkens with the vents down the sides, because they have a lower diffraction signature, which makes the act of having the box dissappear sonically more likely so one is listening to the music, not the box.
The 1st successful miniOnken was the original Fonken (now called Fonken Prime) for the FE127e. We have found since then that many drivers happily live in this kind of box (most excel), so now we have literally dozens & dozens of designs using this kind of technique.
Most of these designs are part of our modestly priced plan-sets. These include drawings for different material thickness, cut plans, details, notes, visualizations. For instance the A10x plan-set (for A10, A10.2, A10.3, A10p) currently runs 61 pages and is growing (there is a larger CGR ( A10.2/A10p) for instance that still only lives in my head). A subscription also means that i will tweak a design for your specific needs or get to work doing a drawing that is missing (a cut-plan for instance).
There are also a few designs (called monster miniOnken) where there are only cabinet drawings. Here an example of the miniOnken for the Goodmans Axiom 201 (next to Frugel-Horn XL).
Typically i release at least one plan for free (often a CGR) and if there is a Frugel-Horn for the driver i will release a centre channel to help out those using FH for their front row LR.
Hope that helps.
dave
Status

This old topic is closed. If you want to reopen this topic, contact a moderator using the "Report Post" button.