Ok I have done some experimentation with a tube gain stage followed by a cathode follower.
I wanted to see if it's possible to get low distortion and a low output impedance using tubes.
I like tubes as they have a a lot of headroom but the downside is higher distortion and higher output impedance.
After some searching a nice valve for a cathode follower is the ECC88/6DJ8 as the gm is high, rp is on the lower side and it can flow some current. It's nice to have low impedance but it should be able to drive something also....
Afterwards I also noticed the 6C45 which is even better.
So to get low distortion it also meant using extra gain and feedback.
So the schematic I have came up with is this: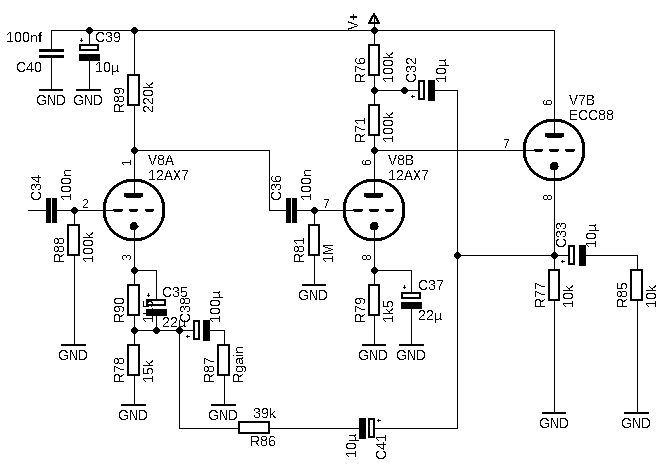 So 2 standerd 12ax7/ecc83 gain stages that are capacitor coupled followed by a direct coupled cathode follower using the ECC88.
Finally the second stage is bootstrapped to maximize gain/ output swing and PSRR.
The output is the coupled back to the kathode of the first stage
Gain can be adjusted using the Rgain resistor.
I know the resistor numbers don't start from one, it's just a sketch...
The simulation simmed nice and I also made a test build of this.
Maximum output swing in a 10k load is around 45v rms (that is a little over 120v p-p). And this also was true in the circuit that has been build.
I also simulated a 100k load and that should clip at around 200v p-p. This is possible because of the bootstrapping. the B+ voltage is 300v
Output impedance is simmed at around 4ohm! (with 12db gain)
If the gain is raised the output impedance also goes up.
With 32db gain the output impedance simmed around 40ohm
I didn't measure the output impedance but changing the load from 1k to nothing didn't change the output voltage much so the output impedance is low.
Distortion is simulated at 0.05% Still have to measure this on the real circuit.
So a few simulation plots.:

Output impedance, I made the output capacitor bigger otherwise the lower frequence goes up and teh scale becomes to big to read.

Frequency response around 12db gain

Response at around 32db

Openloop response.
The lower frequency could be made better using higher value capacitors.
I am planning on using this stage for gains ranging from 12 to 36 db.
I also simmed the 6c45pi as output and I was able to drive a 1k load to 12.5vrms. in 10k the drive increased to 55vrms (160v p-p)
In 100k the drive was a little bit less ( around 180vp-p) then the ecc88 in 100k.
The 6c45 also had a lower output impedance. Especially in the higher frequency's.
I don't have a 6c45 t test this but I think it should work if the circuit is stable. It has a very high gm which is good I think but also prone for oscillation.
So in my conclusion so far I like the bootstrapping principle. It has some of the advantages of an SRPP stage but you don't need "high" voltage to get some decent output swing. Because of the capacitor the midpoint of the two resistors can actually swing higher then the power supply voltage.
Then I know I used a lot of feedback what is normally not done with tubes.
I just like to try something different. Still have to properly set it up and listen to it.....
Last edited: