ok just got an adcom gfa-5500, i opened it to clean it up a bit and i found this, anybody knows what this might be?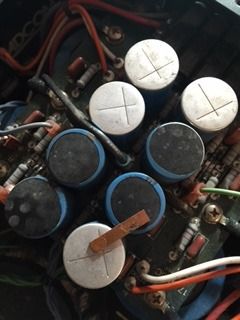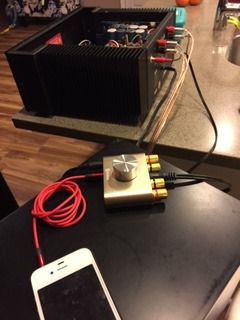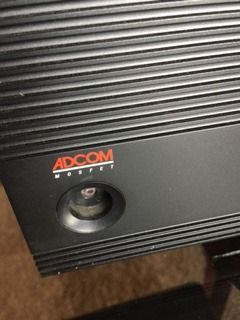 (NOOB here) the amp works, it doesn't get hot, no noise, no hum, its sounds clean! but the lower end is missing, maybe because im just using an iphone as a source but when I use the same iphone set to my radio shack mpa-250 the bass is all there, not like the gfa 5500, adcom sounds a loooot better than the RS, but without the low end...
I wonder if I just need a pre amp...plus what is that copper bar? anyone?
anyone here got an adcom amp for parts? the power button broke off (round plastic piece outside) please help!
I just picked up one of these too.
You have 4 blown caps, I have 2, in fact I have 2 more that aint looking so good and you seem to have 2-3 more.
Those little caps on top I mean, anything with the metal showing should be regarded as popped.
Mine had a blown fuse in 1 channel and grainy weak weak sound. I replaced that fuse and got it working a lot better, but these caps on top have to all be swapped out on mine. And yours.

Anyway anyone have a good source for 1000uf 100v caps. And a brand ?

Thanks,
Srinath.
Anyway anyone have a good source for 1000uf 100v caps.
Why don't you start by measuring one of your cap's dimensions and lead spacing, then see what places like Mouser and DigiKey have?
I replaced those caps, and I believe I put it all back together right, except now I have a high pitched hum. This hum is loud but not dependent on volume. Its also not 60hz, seems a lot higher, but could be 120hz or 240hz.

Its still making sound which is good I guess. But I am going to tear back into it, maybe I have missed something, or more likely, I think I crossthreaded one of the screws on the power supply caps. Hope that made for bad contact and I can fix it with minimal effort.

But can someone tell me why it could have a hum.

Thanks.
Srinath.
can someone tell me why it could have a hum.
Since it wasn't there before, the 120 Hz hum is likely to be from the rectified secondary voltage ripple.
Probably one of the bolted connections to one of the new filter caps is bad or loose.
Oooo That could be, I lost a couple of solder traces in those caps. Maybe I lost a few more I couldn't readily see.
The bolted ones were to the caps in the power supply, I didn't replace those. I replaced the 8 caps on top, I thought they were in the signal path. Maybe not.
I should look in the schematic more closely, but I could have lost a few more solder points.
Thanks.
Srinath.
I had screwed up the threads in the top of the cap so bad, I had to put solder in it and put a wire in it.
I also did a bit more wire retrace work of the possible missing circuit trace, and voila, works, and no hum.
Thanks Rayma, that was awesome advice.
This sort of problem often happens in tube amps when the input capacitor fails open.
The ripple gets huge and the LC filter averages the ripple to a much lower B+ than normal.
Plus, you get a loud hum in the speaker.
Status

This old topic is closed. If you want to reopen this topic, contact a moderator using the "Report Post" button.
ADCOM GFA-5500 please help..