Edit oct 27, 2021: a nice Google drive library of DML publications by vdljev:
DML - Google Drive
Edit April 1, 2020: nice summary of DML patents by Burntcoil
A Study of DML's as a Full Range Speaker
Edit Aug 12, 2019: Nice summary
here by BurntCoil
on how to maximize performance.
I had some cheap exciters that I got from PE a while back and tested them out a while ago with a full 20x30in FC panel here:
Foam Core Board Speaker Enclosures? - Page 225 - diyAudio
I found that a large 20in x 30in panel can sound quite good with nice bass extension and a snappy transient response: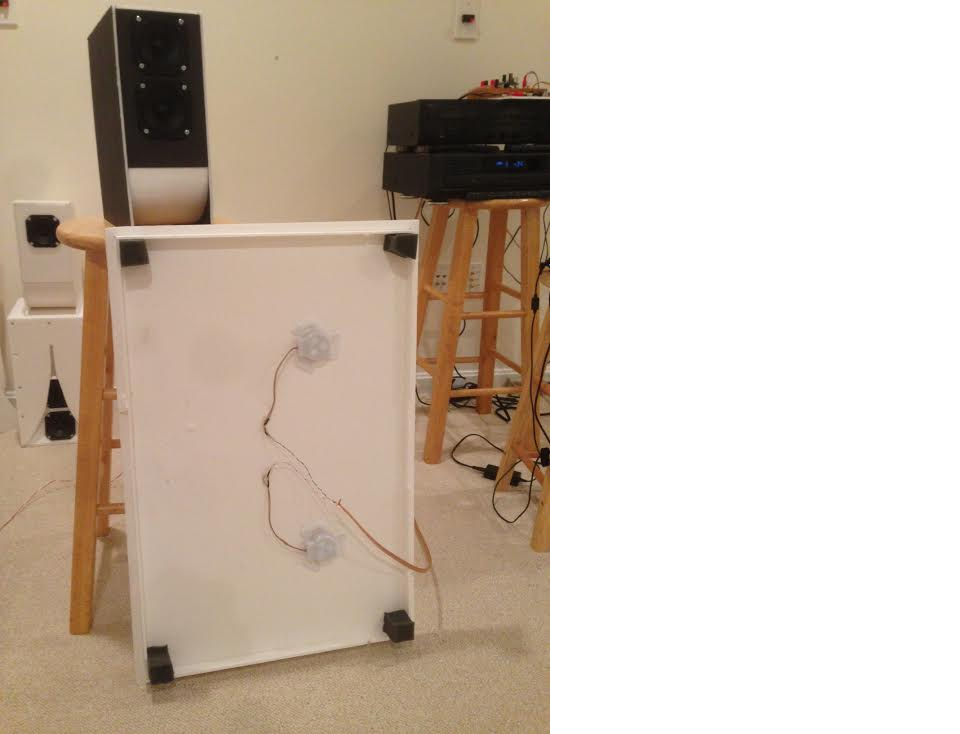 Impedance:
Frequency Response & Harmonic Distortion:
Impulse Response: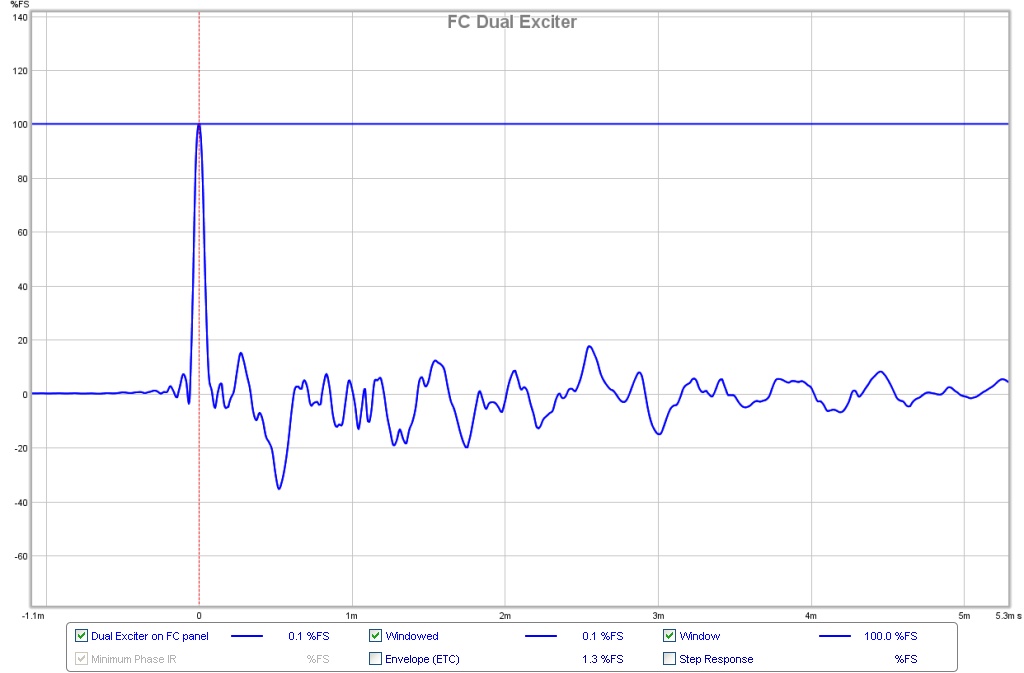 The results were interesting in that it sounded nice - with surprising bass and good midrange. I thought nothing more about it until recently prodded by the master of DML, CLS. He has worked on this extensively and is a treasure trove of good info. I since have discovered that you can really do some cool things with them by playing with driver placement, cutouts, adding mass, adding felt, adding ribs, making them huge, making them multi-way FAST, etc. the options seemed almost limitless. Take for example, a large center channel and a super 40Hz capable multiway that CLS built here:
PIEZO NXT type panel - Page 60 - diyAudio
and
PIEZO NXT type panel - Page 61 - diyAudio
I feel like this technology just isn't getting enough attention. There are several very large threads on this on the web. It might be tough for a newbie to comb through. I am a newbie at this so thought I would document my journey for the Full Range forum to follow. I think it really could be a great full range speaker with some careful experiments. This will be really useful with some modeling using CAD and FEA modal analysis - such as available in many CAD packages like SolidWorks. One can play with shapes, cutouts, mass loading, variation in thickness and materials, boundary clamping conditions, etc. The idea is to spread the modes evenly with not any one mode dominating and causing a spike.
First thing is to play with it to get a feel of what we are dealing with. What is nice is that it is relatively cheap to play with. Exciters cost $3 to $20 ea and can be made by removing or cutting out large holes in the cone from an old driver and leaving the spider and VC to attach to the panel. Foam core or corrugated cardboard doped with shellac or PVA seems to be the materials of choice.
Some interesting facts:
1. Although it has no baffle, it is not an open baffle (OB) dipole in behavior - that is, there is no huge bass rolloff and it hits surprisingly low (40 to 50Hz is easy) for a zero baffle driver.
2. It is not a dipole but behaves more like a bipole or an omni.
3. It has very quick snappy transient response - nice drum sounds.
4. It is sensitive to how you mount it or frame it or hold it.
5. You are building a driver in reality - a driver and zero enclosure.
6. You want to avoid symmetric shapes and symmetric exciter placement in order to reduce the effects of the main symmetric transverse drum head eignmodes. Think reflection anti-symmetric shapes like uneven trapezoids, pentagons, blobs, etc.
7. It operates more by having high velocities and large areas for good efficiency vs large displacements - thus small drivers and large panels can be surprisingly loud.
8. The impedance is essentially "flat" relative to normal drivers in that there are modal peaks (many of them) but they range from nominal Re value (say 6 ohms to maybe 8 or 9 ohms throughout the 40Hz to 20kHz range - this presents a very flat load to an amplifier.
Here is a photo of a basic panel I was testing (right before I cut off some edges to form a trapezoid) - panels is about 1 square ft in size and made of standard dollar store foam core board. I suspended it with two pieces of twine from the top corners between a ladder to reduce the effects of edge boundary clamping:
Then I started to play with mass loading by adding blobs of modeling clay (8, 5, 4, 2, 1, 0) so you can see the effect on the resonance modes and the harmonic distortion. What is neat with this test is you can do it live while playing music and immediately hear what sounds more pleasing to the ear. Note the 50Hz bass extension. It is also surprisingly efficient with 85dB and a puny little voice coil. These are 0.5m and 0.71v for equivalent SPL at 2.83v and 1m.
Frequency Response and Harmonic Distortion for...
No added mass:
8 pieces of added mass:
5 pieces of added mass: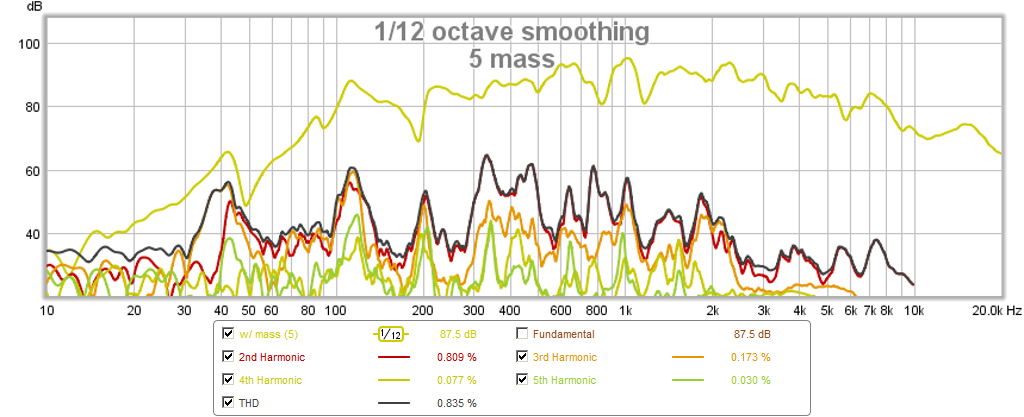 4 pieces of added mass:
2 pieces of added mass:
1 piece of added mass:
Impulse Response of 1 piece of added mass, note the sharp transient capability with relatively low after pulse or ringing:
I liked the sound of the 5 and 1 mass the best and for a FAST with a 200Hz XO, the 5 mass might actually do fairly well. Of course, sound clips to follow once I have more time to work on this. Just to demonstrate how quick and easy this is, I did all these experiments in less than an hour including making the DML.
Last edited: