Hello all!
I recently came across a pair of Hammond 125CSE for such a deal that I could not pass it up. (Free...)
Anyway, I have decided to make a 6EM7 SE 'Spud' amp for headphones. Total overkill in the output department, but what the heck, right? That's what volume controls are for.
Primary impedance will be as high as can be made, 8-10k, to help with coupling, linearity and to keep output a little lower. The 30ohm resistor across the secondary is to help keep the transformer loaded properly and attenuate the output a bit as well.
PSU voltages are not written in stone, I need to go to my project box and see exactly what I have to use. It will be tube-rectified with a normal CLCRC filter.
Schematic is based from a project of Tom McNally.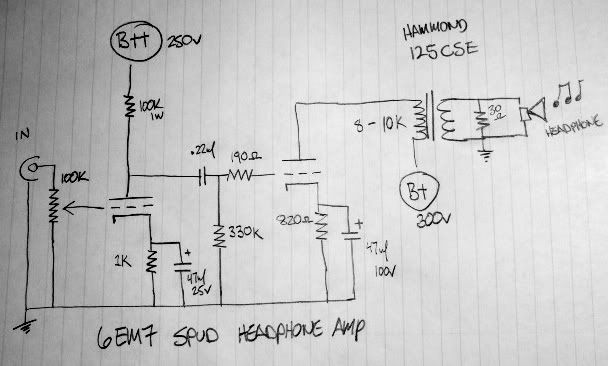 Any comments are welcome from anybody who has experience with this sort if thing! I have never made a Headphone amp and am very open to pointers and suggestions.