-- PCBs are available --
​
Hello dear DIYers,

Due to many requests about that, and also because i have a little time now, i start on the 11-09-2010
a new group buy of printed circuit board of the famous ultra low THD sine oscillator based on the AN67 from Linear Technology.
THD performance : less than 1ppm@10kHz.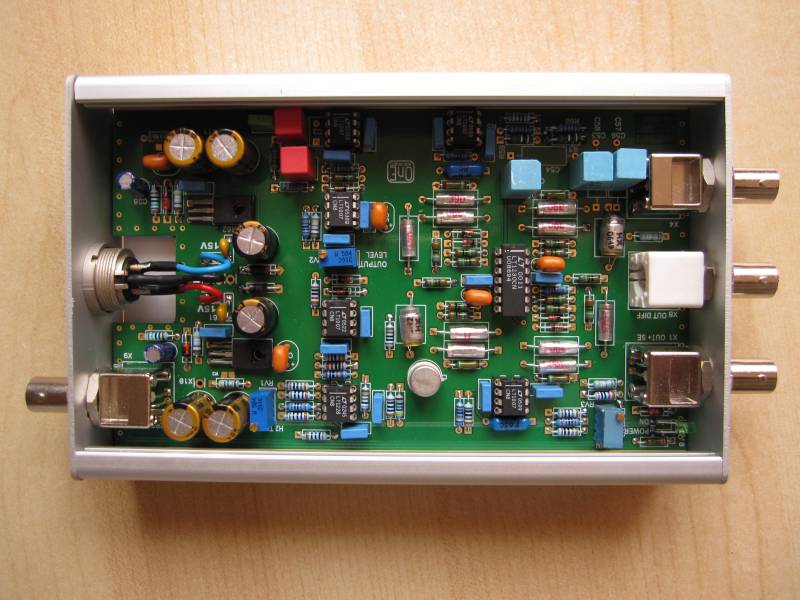 The oscillator need clean +/15V 100mA DC supply.
2 asymmetric outputs and 1 fully symetric output.
H2 trim adjustment output.
Specifications of the PCB:
Dimensions 100x160mm.
Professionnal 2 layers metalized holes.
Silkscreen, Varnish mask.
FR4 RoHs Gold finish.
Pictures of PCB and finished design are below.
Many infos about the oscillator, include measurements is available
here :
http://www.diyaudio.com/forums/equi...verter-project-audio-measurements-tool-5.html
I highly recommend you to read this topic.
The price is 30€ for one PCB.
This price include all:
Paypal fees(When you paid me).
Customs fees to my country.
International Shipping in priority letter (for EU and USA/Canada).
(Delivery time is ~5 days in EU, 10 days to USA)
Packing.
And a little my time to do that.
I will do a little discount for many boards ordered.
As soon the group buy will be confirmed, and all payments done,
I send a zipped file which include all designing files such;
Schematics, bill of material, assembly, datasheets and AN, mechanical drawing, simulations files and more.
Note: I will do this ONLY if at least 10 PCB is pre-ordered.
If you are interested, please edit this wiki page below and
add the following informations:
And send me also a PM to inform me.
Thank you.
FRex.
Pseudo_____________PCB Qty____________Location.
cellspacing="5"
|-
| class="tcat" | Name || class="tcat" | PCB Qty || class="tcat" | Location || class="tcat" | Payed || class="tcat" | Shipped
|-
| dfidler || 2 || United Kingdom || OK || Shipped
|-
| jxdyi || 1 || United States || OK || Shipped
|-
| SGregory || 2 || United States || OK || Shipped
|-
| neb001 || 2 || United States || OK || Shipped
|-
| musafir || 1 || Italy || OK || Shipped
|-
| Valeriano || 1 || Italy) || OK || Shipped
|-
| smgidcumb || 1 || United States (Chapel Hill, NC) || OK || Shipped
|-
| ccliu || 1 || Taiwan || OK || Shipped
|-
| koios|| 2 || United Kindom || OK || Shipped
|-
| gray5596 || 1 || United States || OK || Shipped
|-
| fbalducci|| 1 || Italy || OK || Shipped
|-
Paypal invoices sent on the 22-09-2010.
New buyers stays welcome.
Please, do the payments soon.
I will wait them before sending PCB order to manufacturer.
Thank you.
------
The 24-09-2010 all payments has been receive .Thank you all.
PCBs order is send to manufacturer.
The delivery time is schedule for the 05-10-2010(to me).
---
The 04-10-2010, all pcb are shipped.
---
Frex
Hello,

The minimum number of pre-order PCB is now reached.
I need now all personal e-mail address of each DIYers.
Please, send it to me by PM, and i will sent an e-mail
with a paypal invoice for the number of PCB you want ordered.

The price is :
30€ for one PCB
55€ for two PCB
75€ for three PCB.

As soon i receive your payment, i will send you a zipped file witch include all design files.
I will order PCB to manufacturer as soon all payments will be received.
New PCB orders are welcome, until i send it to manufacturer.
Thank you.

Frex.
Gents, I have fixed the wiki page.

@Koios - because you are a new user, your edits to the wiki must be approved by a moderator; that's why the 'edit' tab was unavailable... because the page was locked until your edits were approved.

I've also added the orders from people listed in this discussion. Guys please check to ensure that I've added you in correctly.

Cheers,
Dave.
Status

This old topic is closed. If you want to reopen this topic, contact a moderator using the "Report Post" button.
[3rd round] AN67 Ultra-low THD 10kHz sine oscillator PCB Group buy.