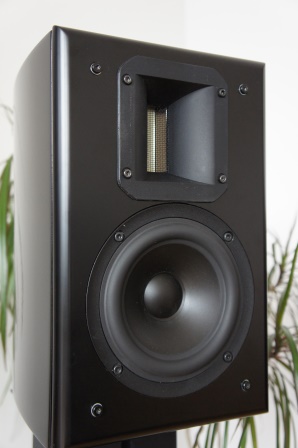 Hi everyone,
I've published a new 2-way design for those who are interested in a small form factor stand-mount loudspeaker.
The
Kensho Two – M2
"Kensho" is Japanese for "seeing nature." It means seeing one's true nature; perceiving the self, but can also in Zen Buddhism mean "a brief experience of enlightenment".
This loudspeaker is a small 2-way using a 5" mid-woofer and a horn-loaded ribbon tweeter in an 8 liter enclosure. As an option the loudspeaker can be built using an 11 liter enclosure.
The horn-loaded ribbon tweeter has its own very unique sound character and it blends nicely with the mineral filled Polypropylene cone mid-woofer.
This moderate priced loudspeaker performs very well and it delivers a very generous soundstage with a large height, width and depth perception.
I love using it with my 35W tube amp, which can play it strong with authority and without problems.
If you hate ribbon tweeter sound – don't read any further – This loudspeaker will give you plenty of "ribbon" sound.
For details see:
Kensho Two – M2
Regards
/Göran