I have been wanting to construct a 12v amplifier of decent power for some time , my first attempt was about 20yrs ago and there wasn't a lot of info around at the time. i had only just heard about the internet!. anyway i built a 1/2 bridge converter using a 3524 and an EE core i found at a disposal store, i never had the equipment to analyse its performance but it worked and powered a high power hitachi AB mosfet board. it was the most powerful car amp i had ever experienced.
Now, I have discovered lots of great info from here and on line, so i thought i would make a mk2 power amp to run off 12v. this time i have implemented 2 class d boards which were an ebay special. L30d boards that claim 300 @ 8 ohms and 600 @ 4 ohms these are very small in physical size so will fit into the enclosure i found at a surplus store.
The smps is a hybrid of all the high power designs i have found here and online, Esp's project 89 was also very helpful. my aim was for about 500w total output. This converter uses 3525 ic with 10 ifrz44 mosfets a etd49 EE core and low esr caps throughout.
The transformer required the most work to construct as i used 0.25 enameled wire.
I haven't done any power supply efficiency tests but i have done total efficiency which is close to 80%.
My last test today had both channels outputting 47.5vrms into 8ohms which is 282w per ch or 564w output and the input was 54A at 12.9v which is 696.6w so efficiency input to output is 80.9% which im very pleased with.
this test was with a 100hz sine. Greg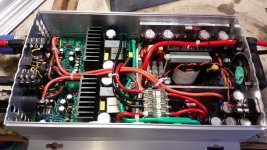 I don't know if there is a lot of DIY construction nowadays (don't see much on this part of the forum) but it's good to see someone still doing it. Now to install it in your vehicle and enjoy it for the next 10 years or so.

One other note. When posting photos, please use the 'go advanced' and 'manage attachments' buttons. Posting as you did causes all typed text to be wiped out if someone clicks a photo after entering text.
Status

This old topic is closed. If you want to reopen this topic, contact a moderator using the "Report Post" button.