Edit Feb 9, 2020: XO PCB all built up with components from BOM
Works well as 2nd order passive XO for MTM speaker too:
This is the Group Buy thread for the PCB for the XO for the speaker described here:
10F/8424 & RS225-8 FAST / WAW Ref Monitor
After making the XO using P2P for years, and at the request of members wanting to try this speaker, I have asked JPS64 to design a layout for this 1st order transient perfect crossover.
Here is the schematic from Xsim: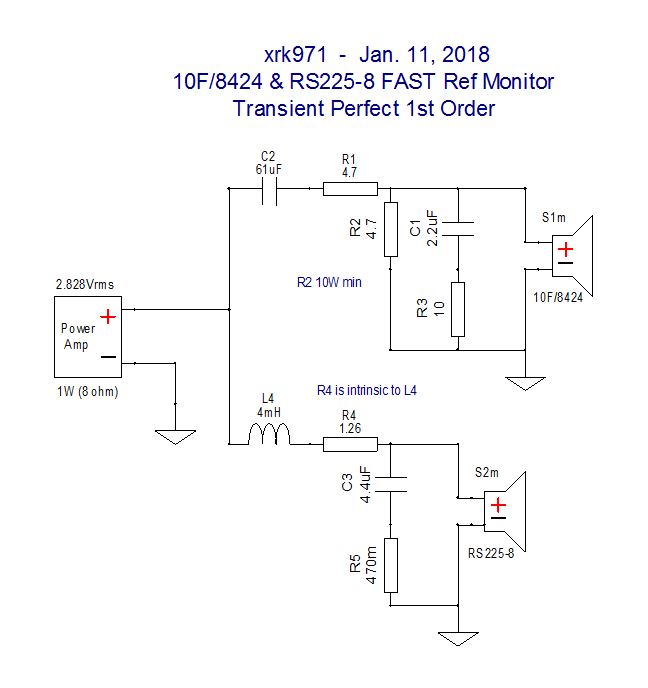 Here is the predicted response and phase using measured response:
Here is the measured response - note the flat phase from 100Hz through 10kHz - essential for reproducing the transient dynamics correctly:
Here is the measured step response (right triangle is idea transient perfect response):
Here is what the P2P XO used to look like:
Here is the PCB schematic:
Here is the layout (board is 150mm x 110mm, 4mm dia holes are 140mm x 100mm). Connectors will be Faston spades with optional flying lead solder pads for 16ga wire. Holes will be provided to zip tie the inductor and heavy large capacitors to the board:
Thank you to JPS64 for another outstanding design!
Here is the list of components (all from Parts Express) for a stereo pair:
Code:
Product       Name	Sku	 Qty	 Price	Total
Dayton Audio DNR-4.7 4.7 Ohm 10W Precision Audio Res	004-4.7	4	$1.09	$4.36
Dayton Audio DMPC-27 27uF 250V Polypropylene Capacitor	027-439	4	$8.58	$34.32
Dayton Audio DNR-0.51 0.51 Ohm 10W Precision Audio Res 004-.51	2	$1.38	$2.76
Dayton Audio DNR-10 10 Ohm 10W Precision Audio Res	004-10	2	$1.38	$2.76
Dayton Audio DMPC-2.2 2.2uF 250V Polypropylene Capacitor	027-415	6	$1.87	$11.22
Dayton Audio DMPC-6.8 6.8uF 250V Polypropylene Capacitor	027-424	2	$2.75	$5.50
Jantzen Audio 4.0mH 18 AWG Air Core Inductor Crossover Coil	255-280	2	$20.91	$41.82
Boards will be thick 2mm thick FRP, 2oz copper with thousands of via stitched holes to tie identical planes on both sides for low impedance), ENIG finish, green solder mask. Pricing will be $38 ea. Shipping will be the usual tracked first class parcel, auto-calculated in Etsy (about $6 in US, $14 CAN, $23 everywhere else).
If you are interested please add your name, quantity of boards, country below:
Name Quantity Boards Country
xrk971 4 USA
Last edited: