HEllo,
It's the group buy page for the design describe in this thread
HERE
.
It's a 100x160mm epoxy FR4 PCB, 2 layers, metallised holes, silkscreen, varnish mask, gold finish (RoHs).
All interested DIYers can add his pseudo and location in the list below.
The price would be 25€ for each PCB.
The price will include international shipping to EU,Canada and USA.
(Others country, please ask my by PM)
I will order professional PCB only if at least 10 PCB are ordered.
The buyers list start here :
Name
PCB Qty
Location
Paid
Shipped
Received
Frex
1
France
Yes
---
Carpin
2
Netherlands
Yes
Yes
Yes 10 feb
MRupp
1
Germany
Yes
Yes
Yes
Andrew T.
1
UK
Yes
Yes
grenert
1
USA
Yes
Yes
Yes!
AR2
1
USA
Yes
Yes
Yes
ccliu
1
Taiwan
Yes
Yes
Yes (2/15)
musafir
1
Italy
Yes
Yes
yes
Valeriano
1
Italy
Yes
Yes
Mother of PEARL
2
Canada
fitzfish
2
USA
Yes
Yes
schaikc
1
Netherlands
Yes
Yes
matejS
1
Slovenia
Yes
Yes
Yes
igwt
1
USA
Yes
Yes
Yes!
dfidler
1
UK
Yes
Yes
Yes
glao
1
USA
Yes
Yes
gagnou
1
Grece
Yes
Yes
Yes
Thank's
FREX
---
---
The 01-februry 2011;
PCB are arrived today, it look like this :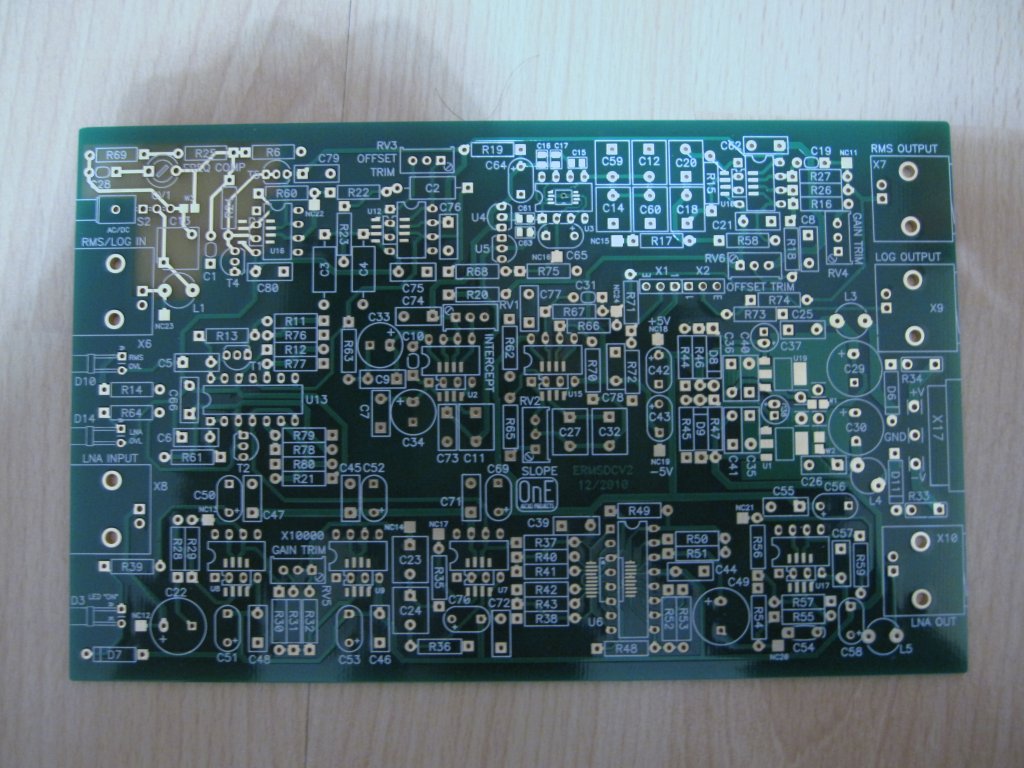 Very good job from pcbcart.
Normally, i will dispatch all of them before the end of this week.
Frex
---
---
---
---
---
---
---
---
The 16 frebrury 2011
After the full test of my own PCB prototype, some little modifications are needed.
The 2 capacitors of the low-pass filter formed by U12:A are inverted.
C2 must have 200pF value and C3+C4 value must have 100pF total value.
So, unsolder the capacitor C4(or C3), resolder it in parallel with C2 (100pF).
The two FET transistors (T4,T5) are mounted upside down.
For working properly, you can connect the pin 2 to pin 1 together, then you rotate it from 180° of the silkscreen legend.
R78 and R21 have wrong values, you must replace them
with 10kΩ instead of 100kΩ.
R55 is 49.9Ω (50Ω E96 value doesn't exist)
R15 and R56 are 909Ω (900Ω E96 value doesn't exist).
Many tests were performed with my prototype, i will post all results very soon in the dedicated thread.
I also prepare a complete new design folder with test and adjustments procedure, history file, and much more.
When it will be done, i will send it to all PCB buyers by e-mail.
Thank you !
Regards.
FRex.
---
---
---
--
The 20 February 2011
Hello,
I have do all measurements on my own PCB, the results are publisher on the dedicated thread
HERE
.
Good reading !
Frex.
---
-
The March 12- 2011
Hello
I've doing many work on the project and i posted some new documents:
_ A user manual to understand and doing measurements.
_ A full measurements report do with my ERMSDCV2.
These documents can be downloaded below,