Fast fun Inexpensive OB project
The Project
Introduction
Some time ago last year a speaker building buddy of mine in California decided to see what he could do in a simple, inexpensive, open baffle project. He came up with a 2 way passive
system
on a medium size baffle. He has been trotting them out at shows across the country and baffling a lot of folks who would never have thought so simple a concept could sound so good.
For your pleasure, here are the build specs on the Manzanita 12s
Total project parts cost is under $150 US per side, excluding wood. Or less than $300 for the pair. The drivers and parts are easy to find in the US, and should be as easy to find in Europe. As long as you keep the crossover values the same, feel free to substitute your favorite brands. Obviously, you will use the same drivers!
There may be plenty of forum denizens who will poke holes in this design without ever building it. No worries, that's part of the DIY sport. Those who do build it will enjoy it, holes or not.
Goals
Why build this speaker? A few reasons:
It sounds good.

It's simple and easy to build.

It plays well in an average size living room.

It does not cost arm and a leg.

Works well with most types of music.

Very wide and deep soundstage.

Easy to listen to – low fatigue.

You've always wanted to try an open baffle design.

Why NOT build this speaker?
Too simple. You need more of a challenge.

Too cheap, you need to impress your friends.

You like a hot midrange.

You need ultimate finesse and flattest response.

Your listening room is huge – or tiny.

Your amp is a 2 watt SET-DHT job.

You would rather go to the beach. (I understand…)

Really, this project is so easy you can start after lunch and be finished in time to kick
back
, and enjoy the blues and some brews before dinner. The
speakers
throw a large soundstage, don't suffer typical box coloration and have good tonal balance. The recessed midrange makes them very easy to listen to. But the midrange fills in nicely in the typical living room that is often a little over bright. With a good solid state or tube amp of 20 watts or more, you'll have plenty of power. Even an AMP6 10 watt T-Amp runs these speakers to quite respectable volumes. A 20 watt tube amps has no trouble, despite the low sensitivity.
Specifications
Name
Description
Freq Range
<eg -6dB at 27Hz and 33kHz>
Freq Response
<eg 34Hz – 28kHz ±3dB on reference axis>
Dispersion
<eg - Within 6db of reference response>
Horizontal
<eg - 60 degree arc>
Vertical
<eg - 10 degree arc>
Sensitivity
<eg - 90dB spl (2.80v, 1m)>
Harmonic Distortion
%THD or plot
Nominal Impedance
<eg - 8 Ohm, min 2Ohms>
Crossover Points
<eg - 300Hz, 4KHz>
Power Handling
<eg 50-250W>
Dimensions
<eg - 60x12x16 in (HxWxD) >
Approx Weight
<eg - 40kg (88 lbs)>
Recommended Materials
<eg - MDF, Birch Ply>


Schematic/Blueprint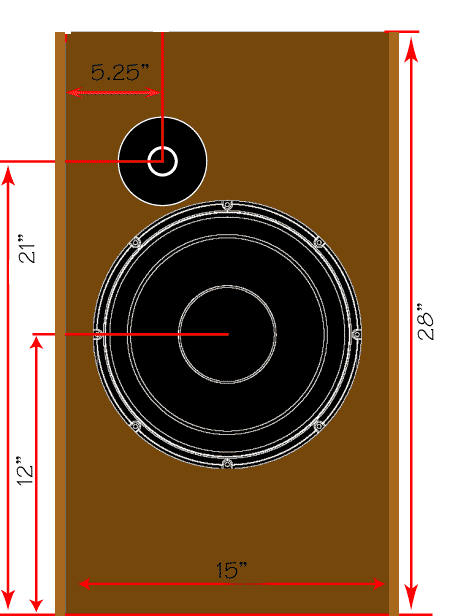 Bill of Materials
Peerless SLS 830669 - 12" Woofer

Vifa TC9FD18-08, 3.5"

Sledgehammer 12mH 15 gauge inductor

20 mH iron core inductor

2 mH aircore inductor

6uF film capacitor

8 ohm 5W resistor

4.5 ohm 5W resistor

Binding posts

3/4 wood for baffle, base and side wings. MDF or plywood, chipboard, etc.

Simulations and Analysis
The Manzanita is intend to be a stand mounted design. 28" provided the best balance of baffle area, but small enough to handle. Need to get the woofer a bit above the rear crossover plate to minimize close reflections at the upper end of the woofers range. Also, getting the woofer off the floor minimizes floor bounce issues. I have found the system to sound the best with the Vifa 38" - 42" off the floor and 48" from the rear wall. Exact baffle height is flexible, but much shorter than 27" and you start effecting the f= and F peak of the Vifa. Not good as the crossover is set for the current dimensions. Hope this info helps.
Construction (Steps / Tips / Notes)
Is there anything peculiar about the design that a builder might want to know about? List them here? Or do you just want to give us a step-by-step build plan; that works too.
Project Modifications
Do you have some small modifications to suggest for the project that could improve it? Please list them and tell us why they improve the design. If this is discussed in a thread, please link the thread URL here....
Modification 1
L1. You can upgrade to a toroidal (14 Ga, 18.0 Mh PE P/N 255-844) These have tended to measure more like 19.5 Mh. Very expensive, but does provide a touch better dynamics and a bit more woofer efficiency due the much lower resistance.
C1. Two areas to play. One is the cap value 5.5-6.2 MFD. Lower value, thinner and slightly brighter mid range. Higher, a fuller midrange. Much above 6.2 Mfd and you drift into a darker overall presentation. Congestion also sets in if you stray too far from the standard 6.0 Mfd center value.
Second area is the brand of cap. Kinda like tube rolling. Generally, the higher dollar caps have less grain, tend to be brighter - smoother and seem to improve resolution - efficiency oh so slightly. If you stray outside of the 5.5-6.2 Mfd range, R2 may need to be changed to maintain proper crossover point.
R2. 4.5 - 6 ohms can be usable. Drivers do vary in efficiency, rooms in high frequency absorption - reflection, so... you can adjust R2 to compensate. I prefer 4.8 - 5.6 ohms in my listening room. And the 4.8 - 5.6 ohm range seems to provide the best phase tracking with a C1 value of 6.0 Mfd. Lower than 4.5 ohms and the cap value has to adjusted upward to maintain the correct crossover frequency and rate. Much over 6 ohms the cap value need to be compensated downward. Fortunately, the Manzi is fairly forgiving relative to the C1 - R2 relationship.
L2. This component needs to stay put as is. Push comes to shove, 1.5 mh up to 2.25 Mh is way better than nothing. The lower values will brighten things up, the higher will darken the tonal balance. Lower resistance air core
inductors
do improve midrange quality. I have even tried 8 ga.! However, the modest improvement is hard to justify given the astronomical cost of 8-12 Ga. inductors. The 14 Ga. Perfect Lay air core is a good compromise. 18 Ga. air core and higher Ga. really degrade the effectiveness of the trap as well as the overall sound quality. BTW, stick with air core designs if possible. The speaker will play of course with iron core inductors, but you can hear them. Even 15 Ga. I.C. impart a grain like quality. Have not tried a Toroidal. If I get around to it I will report back.
R1. This resistor also influences the brightness and overall character of the midrange and treble of the system. 8 - 25 ohms seems to be a good range. As time goes on and the Vifa breaks in, 12-15 ohms seems to be the best. This assumes of course L2 is at, or very close to 2.0 Mh. I currently use 2.0 mh for L2 and 15 Ohms for R1.
Modification 2
Install a flux capacitor!
Build Threads
URL to my super dooper build 2 thread!!!

Related Group Buys
Thread 1234

GroupBuy:XO1234

This page has been seen 1,059 times.