[2nd round] AN67 Ultra-low THD 10kHz sine oscillator PCB Group buy.
Hello dear DIYers,
I start on the 20-05-2010 a new group buy of printed circuit board of the
famous ultra low THD sine oscillator based on the AN67 from Linear Technology.
THD performance : less than 1ppm@10kHz.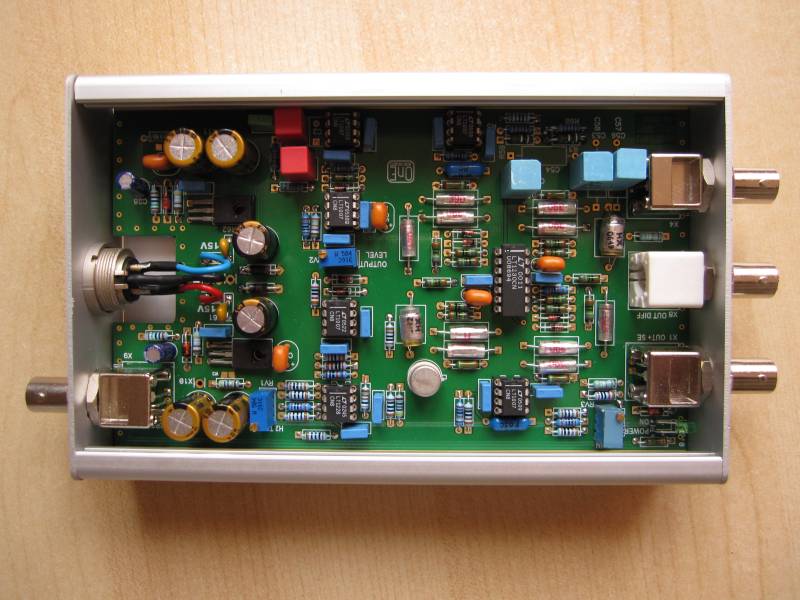 The oscillator need clean +/15V 100mA DC supply.
2 asymmetric outputs and 1 fully symetric output.
H2 trim adjustment output.
Specifications of the PCB:
Dimensions 100x160mm.
Professionnal 2 layers metalized holes.
Silkscreen, Varnish mask.
FR4 RoHs Gold finish.
Pictures of PCB and finished design are below.
Many infos about the oscillator, include measurements is available
here :
http://www.diyaudio.com/forums/equip...ts-tool-5.html
I highly recommend you to read this topic.
The price is 30€ for one PCB.
This price include all:
Paypal fees(When you paid me).
Customs fees to my country.
International Shipping in priority letter (for EU and USA/Canada).
(Delivery time is ~5 days in EU, 10 days to USA)
Packing.
And a little my time to do that.
I will do a little discount for many boards ordered.
As soon the group buy will be confirmed, and all payments done,
I send a zipped file which include all designing files such;
Schematics, bill of material, assembly, datasheets and AN, mechanical drawing, simulations files and more.
Note: I will do this ONLY if at least 10 PCB is pre-ordered.
If you are interested, please edit the
wiki
page below and
add the following informations:
And send me a PM to inform me.
Thank you.
FRex.
Pseudo_____________PCB Qty____________Location.
EUVL 1 PCB Western Europe (Address by PM later)
AR2 1PCB San Francisco, CA, USA
MRupp 2 PCB Germany (Address by mail)
igwt 1 PCB Minnesota ,USA
Joseph K 2 PCB Italy Europe (Address by pm later)
JimT 2 PCB Canada (Address by PM later)
johngalt47 3 PCB Houston, TX USA (Address by PM later)
PH104 1 PCB New Mexico, USA
algar_emi 1 PCB Montreal,Qc, Canada
Turbon 1 PCB Sweden EU
This page has been seen 3,243 times.
Created by

Last updated by