Analog Summing Mixers by Unit Audio
---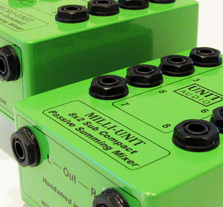 Unit Audio Analog Summing Mixers give home and project studio owners access to the benefits of Analog Summing technology for a fraction of the cost of other solutions.These mixers are completely hand wired point-to-point in the Nashville, TN, using only quality components like Xicon resistors and Neutrik connectors.
The simple, fully balanced, symmetrical design allows for an absolutely transparent signal path while restoring that "certain something" missing from strictly "in the box" mixes.
Milli-Unit $ 149.00* ...more
Micro-Unit $ 199.00* ...more
Unit $ 335.00* ...more
*All prices plus shipping. A flat shipping rate of $9.50 will be added at checkout for the contiguous 48 United States.Orders outside of this area contact
terry@unitaudio.com
to arrange or shipping."
Find out more at
Unit Audio - Unit Audio Home
Or on Facebook at
https://www.facebook.com/unitaudio

Nashville, TN