diyAudio Member
Join Date: Jul 2009
Location: Across the river from Rip's big old tree...
For tube amps w/ high output Z - Parallel R cross spkr?
---
Hi there...
I have another question.
If you have a tube amp with no appreciable NFB from the OPT back to driver, so has a fairly high output resistance, would it help to reduce any impedance peaks in the speaker load? As in this: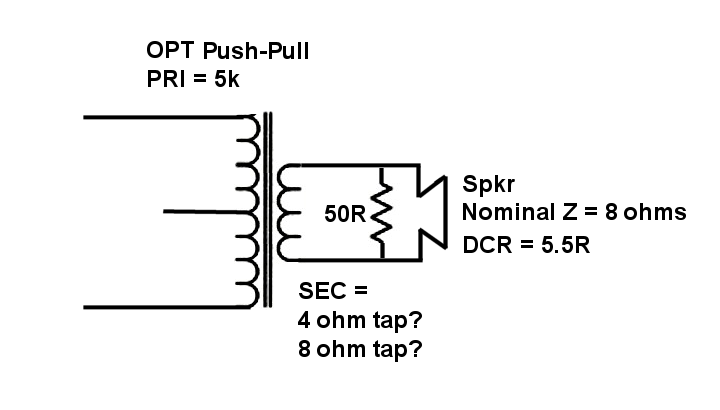 Say this speaker has a ported woofer, and its impedance curve shows a 200 ohm peak at 25Hz and 170 ohm peak at 50Hz. Would it help to strap a 50 ohm resistor across the + and - terminals of this woofer, as in the drawing above?
200 || 50 = 40 ohms
170 || 50 = 38.6 ohms
Substituting a 30 ohm resistor gives this:
200 || 30 = 26 ohms
170 || 30 = 25.5 ohms
The 50 ohm resistor would parallel with the speaker's voice coil DCR of 5.5 ohms to yield 4.95 ohms.
30 ohm resistor paralleled with VC DCR of 5.5 ohms would make 4.65 ohms.
Maybe this parallel resistor idea would work better if the 4 ohm secondary tap from the OPT was used.
So, while this makes sense to me, I know from experience that there's an awful lot I don't know. So I'm asking... What have I overlooked? Any serious downsides to this kind of thing?
Thanks again....
--