Favourite EL34 circuit
---
Hi All,
I'm getting the itch to do some major re-working of my current amp, a DIY Hifi Supply Ella. It uses a pretty conventional circuit: SRPP 6922's, 6SN7 LTP , fixed bias EL34 or KT88 with some modifications. Sounds very good so I am wondering if there are better sounding circuits out there.
One that interests me is Allen Wright's PP1 that uses differential, cascoded 6922 into the EL34's.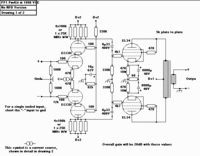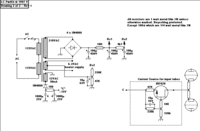 People with much more experience than me have praised this circuit . I'm thinking I could keep the existing chassis,power supply and fixed bias output stage and slot in the input stage.
Allen doen't show any voltages. Can I calculate what the current is through the CCS in the diff amp part?
Is fixed bias an improvement? Any other circuits I could look at?