FS: AYA DAC Rev 2.0b TDA1541A Non-Oversampling DAC kit or complete
---
Hi,
I must sell my AYA DAC (Rev 2.0b boards bought from Pedja Rogic of
www.audialonline.com
)
It is a non-oversampling DAC with Crystal CS8414, Philips TDA1541A, low Jiter Master Clock, non-feedback analogue output stage (2SK170, AD844). All signal resistors are non-inductive audio grade resistors, output caps are Black Gate, all other caps are non-inductive foil caps, Oscon and other low ESR electrolytics. Input is SPDIF with transformer, output unbalanced RCA.
Special wound torodial mains transformer with eight secondaries,
230V~ primary voltage
. Eight separate voltage regulations, analogue voltages regulated by discrete shunt regulators.
Sounds really great.
Picture: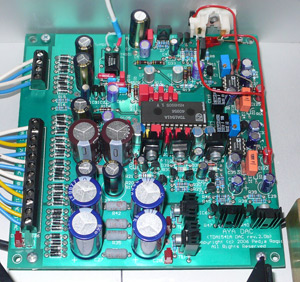 For more detailled information and schematics look at
this
.
The DAC comes wired and ready-to-play but without housing. I can build one according to your likes for extra cost.
I am asking for material cost only which is about USD 500. Free shipping within Europe, other please ask. Paypal (preferred) or bank transfer
I can add spare TDA1541A, CS8414 and crystal if you wish.
Best,
Christian