I'm hoping to revive this thread because I'm interested in doing pretty much the same thing. (I'm actually planning to build a 4.1 chip-amp for my office / computer room.)
After looking at the schematic, I'm tempted to say it's missing a buffering op-amp on the control signal.
THAT's tech note
seems to suggest this is almost necessary (page 9 -- "the 2180 Series VCAs are designed to be operated with zero source impedance at pins 2 and 3") but warns against how many op-amps have considerable inductance at high frequencies. In this case, we're using an op-amp as a DC amplifier, so I don't think it's an issue, but their fix seems simple (series R + C.)
Now, I'm a complete newb to circuit design. I'm just at the "try to build something I found online" stage -- but I'm trying to understand. Can someone elaborate on how to create the control voltage? I'm stuck at the "?K" part. :-)
I'm guessing Ohm's law has something to do with this.. but op-amp inputs are supposed to be ideally infinite impedance. So. I'm struggling with how to design an appropriate circuit for this. I assume it would look something like this?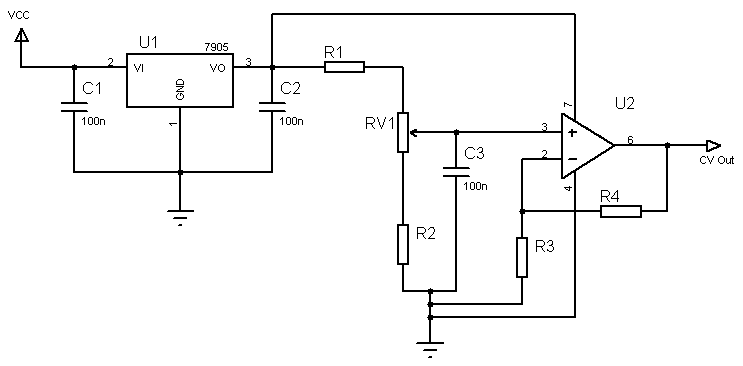 Hopefully I'm in the ballpark here. Here's the idea so far:
R1 - Drop the regulated 5V to something below 1V when combined with the resistance of RV1 (0 to whatever RV1 is).
R2 - To avoid shorting the VR's output to ground (maybe not necessary due to R1 ... or does this leg of the pot even need to be connected at all?)
R3 and R4 - Gain setting for the op-amp... maybe a better choice to use this to scale the voltage down rather than wasting it via R1.
Thoughts? Am I even close?