New oak panel for an old pal.
---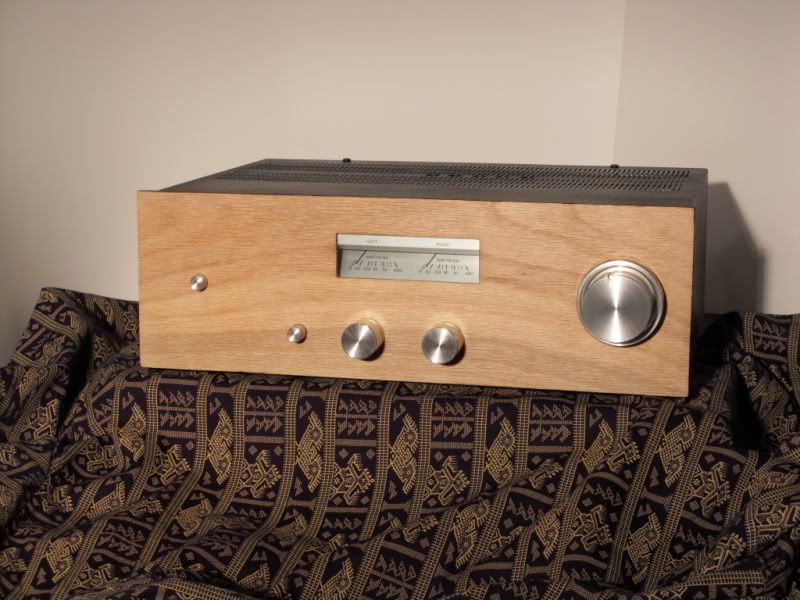 Old workhorse Hitachi amp, but a favorite sound that I keep coming back to over and over again. I decided to reward it with a new look.
Removed and bypassed the loudness, speaker select, phono/tuner/aux select, and tape monitoring switches. Centered the meters for a little of that 'pro amp' look. Polished up the alum knobbery with 1500 wet paper using wd-40 instead of water. All that's left is the power, <20hz filter, bass, treble, and volume. Red oak 1/4 inch craft panel from Menards for five dollars. About three hours and one 24oz budweiser (a little alcohol greatly simplifies feng shui decisions like EXACTLY where to place the knobs and switches) of labor. Fine sanded the oak and sealed with matte artist's aerosol fixative because I wanted to protect but not darken the wood. Dressed the edge all around with fat tipped black marker. I put a 12vdc 90mm muffin fan in fed with a 4.5vdc xformer (almost silent rpm but still greatly enhances the heatsink) tied to a 115v switched source. Amp's been very very good to me over the years, now it ought to last another long time. And after hardplumbing all of those old worn switches I can revel in the vast placebo effected clarity in presence, soundstage, tempo, isolation of specific instruments, impact, slam, etc, etc, ad nauseum (and better better with more beer..yay!). Oh and sparkle. Did I add that? At the very least, even after all of that noodling with the soldering iron, it's still my favorite sounding amp. One thing I always admired in Hitach was the robust hardware. Switches and potentiometers on this '70s era stuff were silky smooth and built like a tank.
I always wanted to do this, but now that I have I'm not as impressed with the look as I thought I'd be. I think a lighter oak, or even a white 'limed' finish might be better with the bare alum knobs. But it's a vast improvement over the old beaten up, cluttered up, panel. Welcome back buddy!
---
Last edited by peace brainerd; 22nd February 2010 at

05:23 PM

.