Dual Coil relays...how do they work ?
---
I have some Mercury-Wetted relays with dual coils.
Very similar to these...
(my part # says AWCB-
16632 D045
, with an extra pair of pins for the second coil)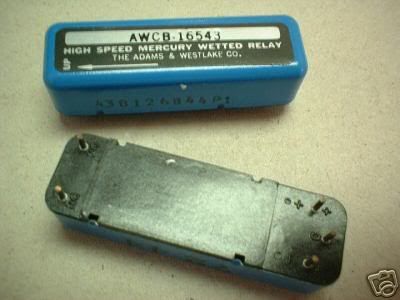 How do I use these ?
....for switching/selecting line-level inputs in a preamp.
I am not sure if I need a logic circuit, or there is a simpler method.
My related recent thread:
http://www.diyaudio.com/forums/showt...hreadid=109356
An older related thread:
http://www.diyaudio.com/forums/showt...threadid=69483
...regarding finding a relay's unknown tripping voltage, in another forum I found this...
Quote:
You might try this. Use a variable dc power supply. Connect to the coil
leads at zero volts. Increase the voltage until the armature moves. This
is the pull-in voltage. Write it down. Now drop the voltage and wait
until the armature drops down. this is the drop-out voltage. Now add the
drop-out voltage to the pull-in voltage. Then go to the nearest highest
value that makes sense, like 5V, 6V, 12V, 24V, 48v... this could then be
used as your coil rating. Run it at that voltage for a while. Monitor
the current and the temp. If it doesn't run away, you're good.
=RR=