I built one last night.
(Heatsinks not yet applied,)
But at my local surplus store, found some 1N4579A 6.4v ref diodes @ .0005% tempco.
So
if
I understand what's going on...I altered R1, R2 values to work with the 6.4v reference.
What I
think
happens is:
that R1+R2 should equal 15k, (which coinsides with the 15k's on the neg. rail.)
And based on the value of R1 vs 6.4v reference , using the datasheet formula should give me the positive output.
Are my assumptions correct ?
=============
Does anyone have a copy of an older National Linear Applications Handbook ? I believe there's more info on this circuit in there.
==========
Powering Up:
No load.....I get a stable +15.38v, -15.34v
6k load (per rail) very close to the above voltages.
100 ohm load (per rail)....+15.35v (stable), -14v (erratic, not stable, transistors get warm with this load only.)
Transformer: 36v CT @1.2 amp
w/2200uf smoothing caps.
Layout: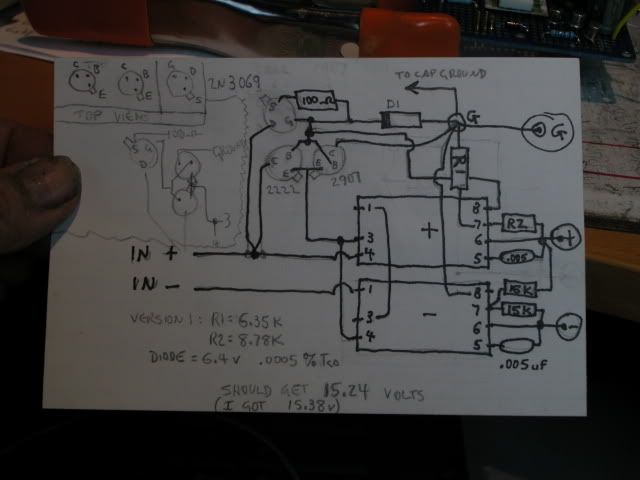 =FB=