An F1 clone comes alive. Again.
---
As I threatened to do
, I've pulled the F1 channel banks from my F1/F2 clone into a new chassis.
I've a few build up pics on a camera I can't find... Mostly of the PS stack buildup. Basically, the PS PCB on long standoffs over the transfo that has a sheet metal shield.
You can see where I hacksawed the clone F1 channel boards in half, ran jumpers & mounted them to 8" x 8" heatsinks. Heatsinks retail about $28 USD each but snagged 4 for $40 shipped from the bay.
Amp has a main A/C in & a zipcord A/C trigger connected to a 120VAC relay. So 3-prong plug goes in wall, 2-prong A/C trigger to pre-amp switched outlet.
Idea is that this sits on the floor behind one of the speakers & wires run to it.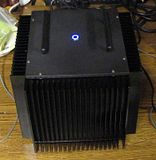 Sounds great & came out exactly like I wanted... Thanks to NP again for making it possible for us to build these