Pushing the "Bang For The Buck" to the limit
Anybody thats heard the original Paradigm Titans knows that they are contenders for the best "cheap" commercial speakers made. If you haven't heard them, ask somebody that has. I'm not saying that they are the "Be All" speakers, far from it, just that they sound better than any $200 pr. speaker has a right to.
I bought a used pair for $100 as a "stop-gap" (until I had the time/money to build something better) while I got the rest of my system up to par. I decided to crack them open to see if I could tweek them a bit. At this price I was expecting some pretty cheap construction, and I wasn't disappointed. The cabinet is constructed out of 1/2" chip board for the sides and back, with a 1/2" piece of MDF for the baffle (chip board wouldn't support the drivers here), and the simple 6dB/octave x-over had a POS cap to the tweeter. With the back off, the glued together box rang like a bell with a knuckle rap.
The first thing I did, after pulling the drivers, was cut 2 pieces of 7/8" hardwood dowel for a snug fit, and glued them in for cross bracing. The next bit is the coolest, and the reason for this post. I bought a can of Plasti-Dip, the stuff the hardware stores sell for rubberizing the handles of pliers and such. It cost around $9 US. I thinned it per the instructions on the can, 2 parts Dip to 1 part lacquer thinner, and then stirred in 80 mesh sand until it had a granular texture to it. Using a disposable brush, I then coated the interior with a thick coat, about a 1/8", of my goo. While this was drying, I coated the frame of the mid/bass with straight Plasti-Dip. After everything cured (It took around 3 hrs, and stunk to high heaven...ventilation people) I re-installed the drivers. This is what it looks like inside....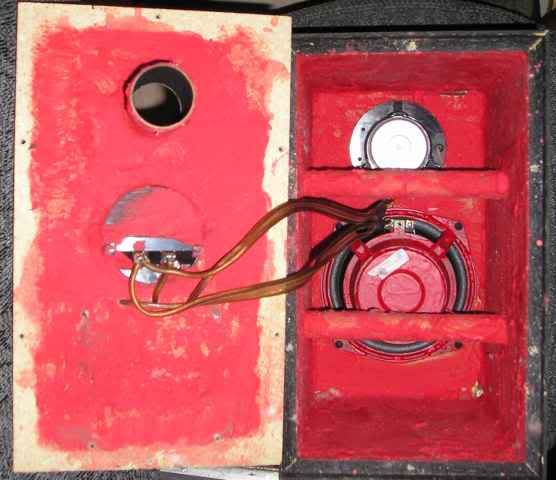 The x-over was next. I moved it outside, and replaced the high-pass cap with a composite PIO made from dipped "de-nuded" Russion caps. I'm still using the original inductor and "sand" dropping resistor for now..I plan to replace these as well...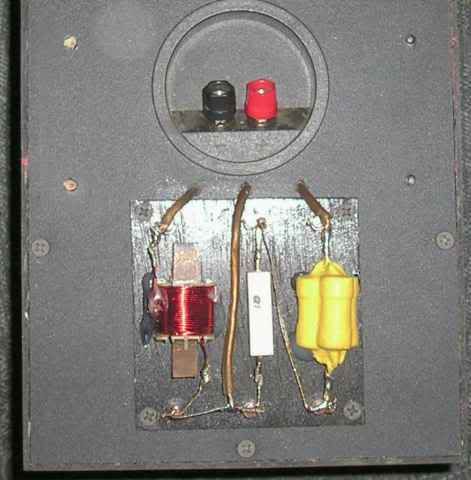 I re-assembled the unit with the original piece of fiberglass batting. Was it worth it ?
Holy superior sonics, Batman !!!
If Paradigm had done this from the factory, they would have had a very hard time convincing customers that the more expensive models were worth it.
True story...like most of us married types, I have been trying in vain to get the spouse excited about the various mods/upgrades I,ve done...not this time. I had just finished my shower, and was getting dressed when my bride appears with this coy grin. She says "You have got to hear this." and walks out. I'm thinking "What is she talking about ?". I follow her out into the living room, and she starts to demo my system to
ME
with her favorite Sade CD !! 'Nuf said ?
All future speaker projects
will
have this acoustic treatment.
Casey