diyAudio Member
Join Date: Jul 2009
Location: Across the river from Rip's big old tree...
Modify position of woofer in cab w/ new baffle?
---
First off, this question is the result of my being a completely incompetent woodworker. My friends tease me about this. Oh well. I have learned to live within my limitations.
I have a pair of Klipsch KG4.5 "monkey coffins." I got them cheap, to try out, but I'm tired of them. I figure they'd make decent woofer boxes, though. These cabs are about 2.4 cubic feet/68 liters. Here is a picture of the ugly beasts:
I would cut away the original baffle, leaving a border that would allow me to to glue a new baffle onto the front of the cab. This would allow me to cut a new hole for mounting the woofer in a different place. I'd like to move the woofer closer to the top of the cab, as close to the top as possible. Sort of like this, but bigger and wider: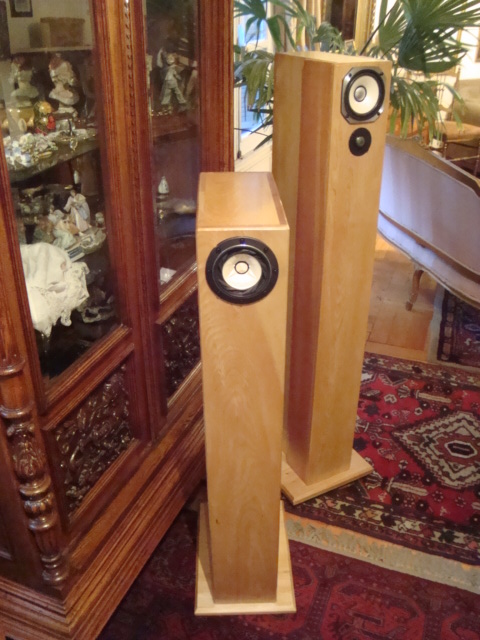 That way I'd be able to sit a horn tweeter right on top of it, minimizing the distance between the acoustic centers of the woofer and tweeter. That would make it easy to experiment with different horns, etc. by simply perching the new horn on top of the cab.
So, is there a problem with locating the woofer close to the top of the speaker baffle? I figure that would be a good thing as regards diffraction, no?