Hi guys, have some questions I could use some help with.
I have an old RGT100 that started making awful humming sounds, so I figured it was due for a capacitor change. The amp is dated inside from 1989. I went through the power board, and replaced all the electrolytics. All the resistors tested ok. I haven't touched the preamp yet, as I'm still getting my head around power sections at this point. I used the old capacitor legs, since the underside of the board has some kind of silver tape or coating over the entire ground section. It's a board I've never seen before, perhaps wave soldering? It's all actual traces of solder rather than circuit traces I'm used to seeing.
I built a series lightbulb current limiter, and I have a variac, so I brought the amp back up slowly, and used the limiter. With the tubes in, I'm not getting results I wanted. The light stays bright like there is a short when I have EL34 in the amp. Without power tubes, it flashes bright, then dims to dull glow, then slowly starts getting brighter again. I was hoping for this behavior with tubes in also. When I have 6L6 in the amp, the current limiter goes bright, then dims a little, then starts to slowly get brighter again. Kind of working, but it doesn't dim enough to where I'm comfortable. I only have a 100W bulb, but the amp draws 200W at max output, so I assumed the approx 1A current would still be a good limiter without going too high. Will the amp draw more than 1A at idle with the tubes in, will I need to use a 150W bulb for expected results? I'm worried I have a short somewhere the way the limiter is acting, but it seems to work exactly as expected without the power tubes in. I know the power tubes are good as they work in another amp and I have a tester.
The amp was designed for 6L6, but someone at some point modded it to run EL34. They added a 470 2W screen resistor in series with the original 470 screen, I assume closer to 1k for the EL34? I'm not sure what other mods they did for the unused pins on the 6L6, as I'm not that experienced with circuits yet. Would I be better off using a 470 screen here since I want to use the stock 6L6 again? I was going to err on the side of caution and leave the 940ohm, but I don't want a mushy mess with the 6L6.
The amp has always been pretty noisy, would cleaning up some of the wires around the power tube sockets gain me any benefits? The solder joints look pretty scary, but I'm hesitant to touch anything on an amp this old. I already broke some connections right off from the LED while moving the power board. They crumbled right in my hands.
One more question, with the tubes in or out, I'm reading a plate voltage on the power sockets, climbs close to 300V. I'm not reading any bias current when I have the power tubes in however. Does the voltage need to reach a certain threshold with power tubes before I see a bias current?
Thanks for any help.
Here are some pics and I've attached the schematics(2 that are partial complete).
before power section: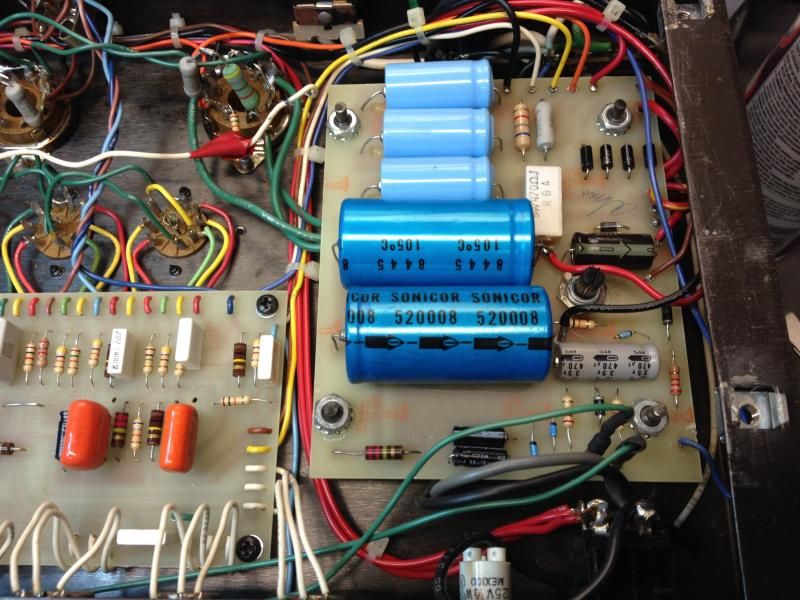 new caps:
power sockets: