A little concept of mine, in case that anyone is interested. This preamp use 2 double triodes (i have used 6n16b for this but any double triode will work: 12ax7, ecc83, ecc82, 6n2p, 6n1p (i even recomand to try and listen Ecc85 (it's a hell of a tube)).
The design is a classic one: the first triode amplify the guitar signal (input impedance set at approx. 1M). In the second stage C8 take off that high-end of the sound. I used 1M gain pot but a 500k will do just fine. WARNING!: The gain pot is very important for 2nd triode polarisation so the 3rd lug must be set to ground potential.
We have a voltage divider formed by 2 x 470 kohm resistors so the 3rd triode is not too hard over-driven.
The 3rd triode is set in a very common configuration for high-gain pre-amps (just adds a little grit to the final tone).
A tone stack formed only with bass and treble controls. And a cathode follower for the output stage so we can use this preamp with mixers/sound-cards etc. without the fear that the signal will be overloaded.
PS: This preamp could be used also as a starting point for a self split mini tube amp with 6n16b as output tube and a 8k:8ohm output transformer (this is a very good tube bc. it has a very small internal resistance : max. is 14k @1mA and i used it @7mA so the internal resistance is about 4.7k according to D.S.)
So any tranny with a primary of 8k to 10k and a secondary of 4 to 8 ohm will do the trick.
[IMG]http://i479.photobucket.com/albums/rr153/gtudoran/KrugerPreamp.jpg[/I
MG]
The power amp section for this mini amp (approx 1w). I took as a template the output section from the D.H. - Firefly and i modified it to fit my needs and tubes (6N1P).
Cathode resistor modified to 5600ohm(in the first place i had 460ohm witch give me about 10mA trough the tube but i would like to preserve the life of the tube and run it at 7mA any value witch will keep the current at 5 to 8mA will be ok), that would give me about 7mA tube current @ 221v anode voltage.
Coupling cap. modified to 0.01uF.
To compensate a little I've decoupled the cathode resistor with 22u pol. cap (22u/50v should be more then enough).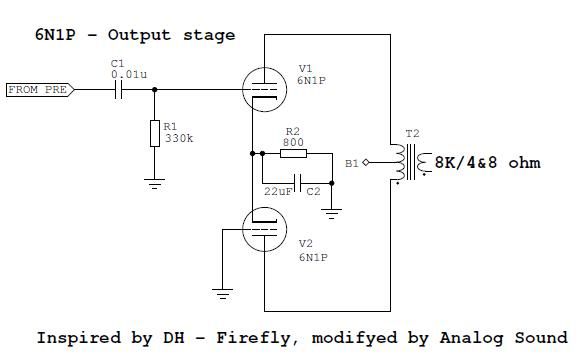 Any comments are apprecieted.
Best regards,
Gabriel Tudoran
Analog Sound
PS: A little sample:
Clip 1
Clip 2