555 Timer Triggering Problem
---
I am having trouble with a mono-stable 555 timer circuit.
When I connect this to a power supply (right now it is a 120VAC to 12VDC converter), the timer turns on and then off, like it would have if it was activated by the trigger. After this, when the trigger is used, everything works perfectly like it is supposed to.
I am trying to figure out how to stop the timer from triggering right when it is connected to a 12V supply; I only want it to turn on when the trigger is used.
I apologize for the crude schematic that isn't drawn properly: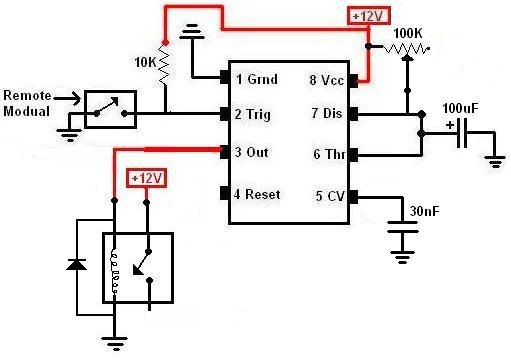 Things to note:
- This will be installed in an automobile; the Remote Module is the ground connection that the remote module makes to sound the horn; right now its on a work bench
- The charging resistor is a 100K variable resistor that only has one end and the wiper connected.
Any help is appreciated. Thank you for your time!