Quote:
Originally Posted by
aspringv
Yup, according to the reference design datasheet, it looks like I could have used the 2x125W unit bridged, for a 500W output on a 8ohm load. It's a bit confusing - i would have called that a 4 ohm load on each channel.
The IRF2902 reference amp is designed to be scalable, with tradeoffs that can be made for supply voltage and power output and load. The Sure amp is closest to the Amp7S-200, but different values have been selected for the OVP, UVP and current trip levels. The following table should help you figure out what you have and how far you can "push" the amp and what power supply you can use. Enjoy.
It looks like one possible interpretation of this data is that the amp should work fine in bridged mode for an 8 ohm load with 51V supplies (this is because the OVP, UVP, and OCSET are close to the same values as the AMP7S-150). Unfortunately, the circuitry needed to bridge the amp isn't on the board--you would have to buy the parts and add them yourself (the PCB will accept the parts, but that area of the board isn't populated--at least, mine isn't)
.
Caution: the part values for the "Sure" column were taken from my board that I bought about 9 months ago, and they may be different on the current boards.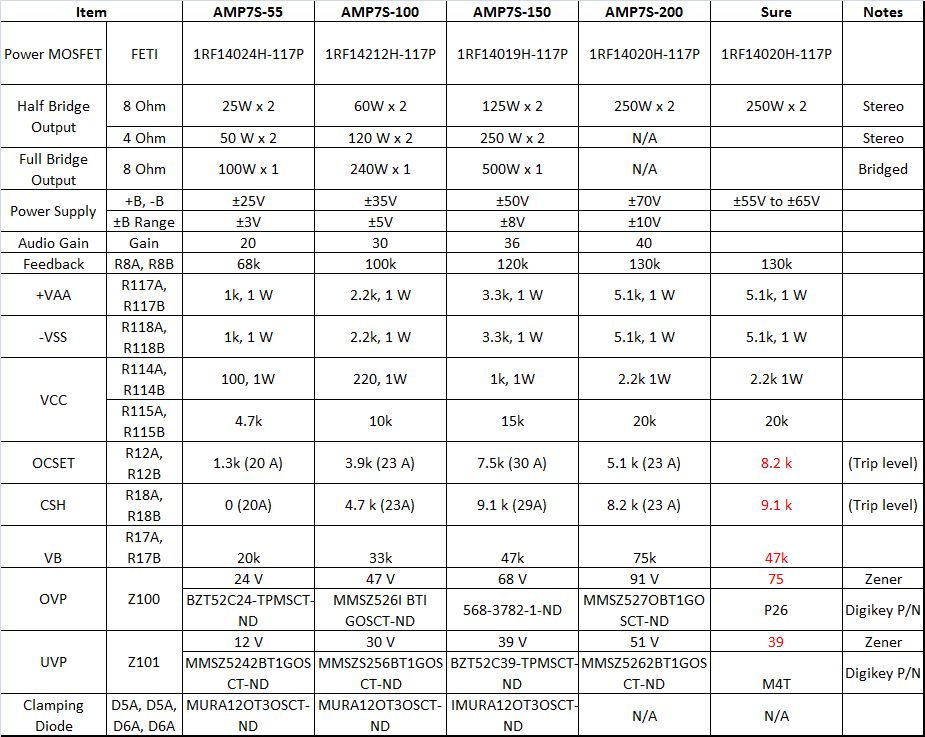 ---
Last edited by Neil Davis; 20th September 2012 at

03:44 AM

.