Help me with capacitor on board UcD400
---
Hello everyone,
I've got a problem with my UcD400 amp boards.
I have not listened to my UcD400 amp for about 8 months. Today I decided to move my UcD400 modules to a better amp chassis.
When I removed the modules from the old chasis, upon inspection, I found that the front shell of the brown capacitor had come off and the core seemed to be expanding. The same problem had happenned to the other module.
I think this is a capacitor failure and maybe due to moisture or something else and I'd like to replace these capacitors.
On the shell of the capacitor I coud read 684 and M65
I suspect that this is may be panasonic polypropylen film capacitor but I'm not so sure and do not know the value
Could you by any chance know what type of capacitor and the value of them so I could find replacements?
Thank you for your comments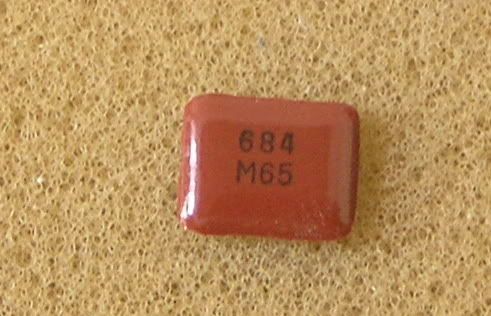 ---
Last edited by ncc; 28th August 2011 at

10:38 AM

. Reason: Pictures added