Hi,
Lets get this right - you have bought the Dayton 10" dual coil sub, Yes ?
Well that pretty much IMO determines everything else, if you actually
want to use it, there are arguments you should use it elsewhere.
1) Size :
Practically speaking your talking a 1 to 2 cuft box tuned
between 33Hz and 40Hz, not ideal indoors but fine out.
2)Mid/Treble
All these have to do is intergrate well with the 88dB/W
woofer, noting that its effectively 85dB/W per channel.
The bass drivers upper mid peak means you need
to cross it low, so sealed back mids are out.
Umming and aaing - I'd suggest two of these :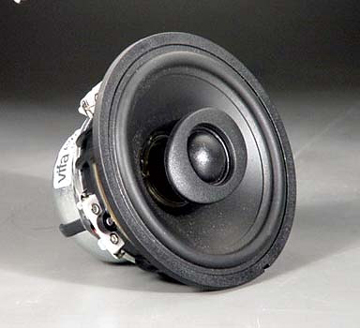 $15 each but no c/o from
Speaker Stuff
Put them in 3L sealed, left and right of the sub.
Use the c/o detailed on the page
3)Amplification
I'd suggest using a 4 channel car amplifier with built in active
crossovers to integrate the bass unit to the mid/treble section.
4)Alternatives (simpler and cheaper)
Drop the sub. Use the car audio 6.5", 1" and c/o I linked to earlier.
http://cgi.ebay.com/CADENCE-ZRS-65KS...ht_3498wt_1101
(It has a nice facility to adjust the tweeter levels, easily modded.)
Use the Lepai class T amplifier, battery and charger mentioned before.
Cabinet is a guess, I'd say 1 - 1.5 cuft split between the two, again tuned 33 -40Hz.
If you go for 4) then use the sub with a plate amplifier, in a bigger box vented
and with sattelites, I'd severely suggest :
Zaph|Audio - 4" Bargain Mini
not very portable but then again quality never is.
rgds, sreten.
My favourite suitcase system was a suit case which contained two small speakers and a 2.1 amplifier
in foam cutouts. After removing the speakers and amplifier and setting them up the suitcase was now
the sub box, as it had additionally the sub driver internally mounted. Lots of variations of this.
But note it wasn't battery powered and rechargeable, just a quality travelling system.