Couple of Qs about my LM3875 circuit
---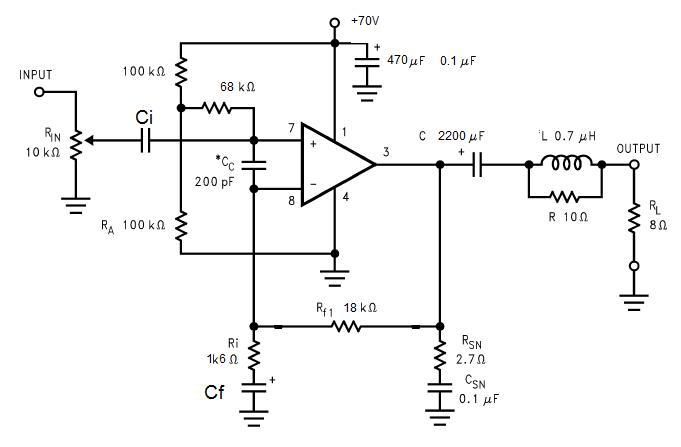 I'm working on the above. I have no choice over the supply, and have a couple of questions about the single supply circuit, which is pretty much straight from the datasheet, with changes to nfb resistors, and a minor change to the input bias resistor (due to not having a 75k).
The application isn't hi-fi, but obviously I want to get the best circuit possible given the constraints. A low bass response is not necessary.
1. There's no decoupling cap on V/2 on the datasheet. Pretty much every other single supply V/2 resistor network I've seen has one parallel to the resistor I've labelled Ra. Should I use one?
2. I'm thinking the input cap Ci's high pass calculation should take R as 68k + 100k||100k, ie 118k. Is this correct? Does the input pot (which may be changed) or the previous stage's output impedance play any part?
3. I understand it is good to have as little AC voltage across Cf and the output cap as possible. I have no control over choice of output cap, so will be selecting Ci on this basis. Given a lack of AC voltage I'm thinking the 50V rating on the output cap is OK, even though the signal could swing higher, as this will just pass through so long as I set the input cap correctly. Is this correct?
Thank you.
---
Last edited by Robert Kesh; 6th January 2013 at

12:32 PM

.