...but I like to call it,
GigaMoy.
Because it's overkill and I like it. And it's messy, might clean it up a little.
This is my first "finished" (still getting the housing together, will be a small wooden box with a screen on top for the light to shine out from. Will not be little orange/red LED pictured)
Specs:
Power section:
2x 330uF Panasonic FC's in standard config.
Generic PCB mount switch (temporary)
Generic Metal film resistors from some Asian country.
18v of alkaline goodness.
The Meat:
Burr Brown OPA2132P (hopefully temporary)
4x (2x2) ERO KP1832's @ 6400pF each.
Same resistors as power section. (Gain: 5.4)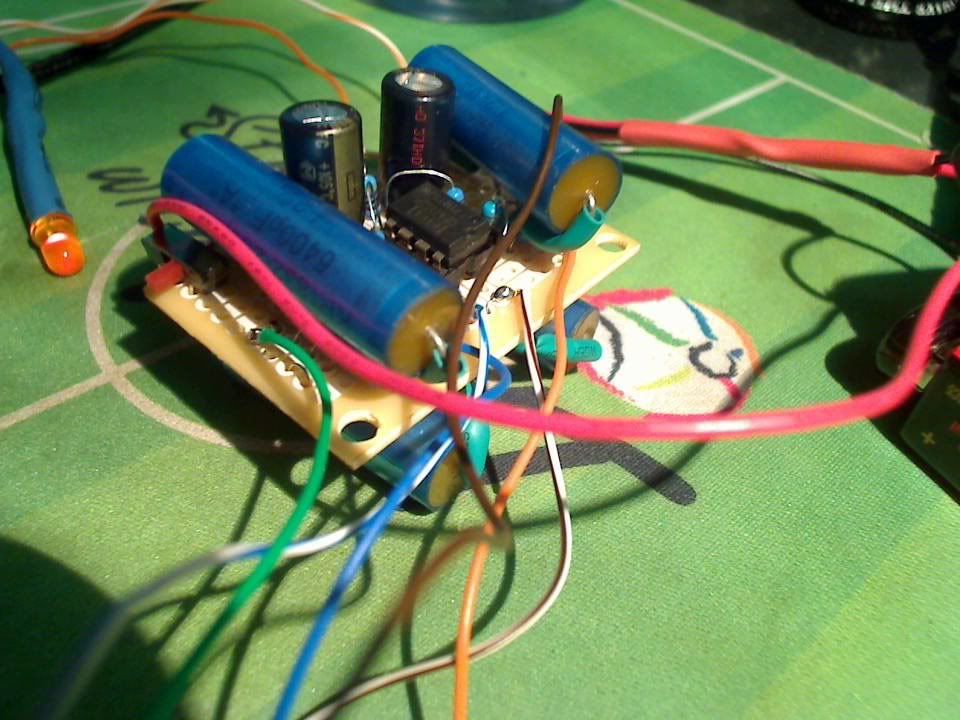 It all started with my first CMoy, built from Radio Shaq. The thing just wasn't cutting it. 9v, generic 330 uF caps (light blue), green coupling caps...it was okay, not much of an improvement over my...can I say it here? Quietly, and it should be okay...
...a little bit of an improvement over my Boosteroo.
So I took a break from soldering things, and I started this beast. Those generic film caps again, but wait. That big box of caps from the Electronic Goldmine awhile back? It had about 36ish of these crazy huge ERO caps...
So I stuck two of them on. Now, with a 96 kHz, 24-bit recording of a Marylin Manson vinyl, I could understand every word, could hear not only the guitars, but the pick hitting the strings. Oh God...the first amp I've built that is worth a damn!
But it was still lacking, just not enough power. It hit highs and mids fantastically, but I wasn't getting that laid-back Burr-Brown sound. Amazing sound stage, but, forgive me for asking...
Hey, where's the bass? You sound great, except in that department.
So, I had an idea. More big, long blue things! Yea, put a couple more in parallel. Should do something.
Now I'm getting that Burr-Brown sound, to the point where I want something clearer. Something more accurate and revealing at about 7.5v-9v per channel. I hope this OPA2132 is only temporary, even though it is a lot nicer than anything else I have for headphones.
Tomorrow I'll (hopefully) be able to finish the little wooden box it is going in, and be able to show that off. Maybe finish a couple more CMoy boards, I have about 4 or 5 sitting on my table, partially completed.
Questions!
1. Op-Amp suggestions? I want more clarity, damn it.
2. Something more space-saving, but as good (if not better) than the ERO caps? Maybe something boxy, but something flexible would be best.
3. Suggestions on getting PCB mount stereo jacks to stay on the wooden box, but still be removable later when I can get a hold of some nicer, panel mount jacks? All I can think of is hot glue.
4. Other suggestions to make it sound better?
5. Has anyone done a CMoy with the power portion on another board and powered by 24v or higher? Next I'm planning on either a Gainclone or the most ridiculous CMoy variant I can come up with so I have something really perminant to help out my pathetic SoundBlaster "X-Fi" Extreme Audio without spending much.
Yea, I'm cheap. That's why I got into this stuff.