Hi All,
I might be planning on modding my Genesis Dual Mono.
Still weighing the pro's and cons though. Here's a snapshot of the internals.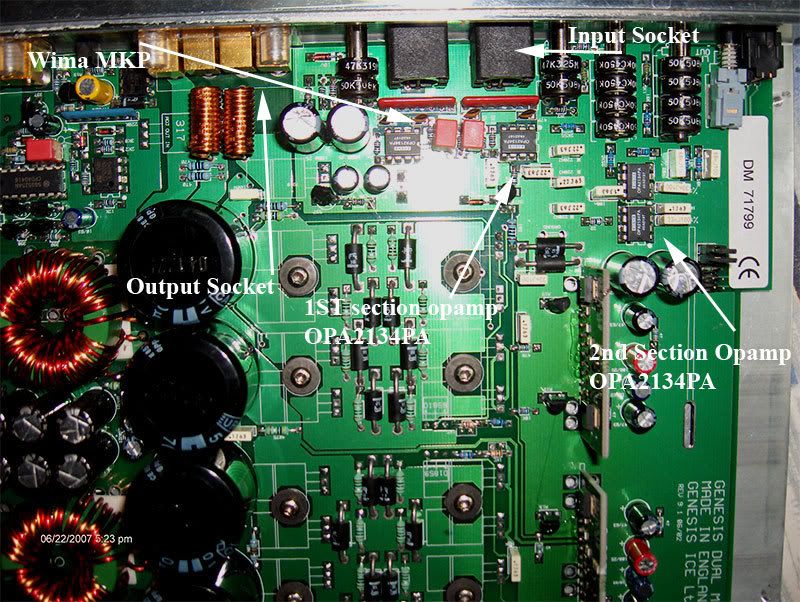 A few questions I have.
The opamps used is OPA2134PA.
1) Would it be benefitial if I swap it with an OPA627/OPA637 ?
I still have a few leftover from my last project which can be used (mixture of OPA627/637AP & BP)
I know OPA627/OPA637 is a single channel opamp compared to OPA2134PA which is a dual channel.
I'm planning to use and single to dual opamp adaptor. Anyhow one thing intrigues me. Since DM is a mono configuration is it really using the dual channel of OPA2134PA ?
Or did genesis use this opamp purely because of of it's price/performance ratio and only utillizing one channel of the opamps ? Can I simply add the opa 627 without using any single to dual adaptor ?
2) As shown in the pic am I right to say that the first section of opamps are for the preamps and the second are for the crossovers ?
Do I need to change both sections or would it be sufficient if I change only the first section?
3) The WIMA FKP near the input socket. Are those input caps ?
would it be benefitial for me to swap those with lets say a mundorf supreme ?
4) is there any output caps ? Not sure if it's using any.
These are the major areas I'm interested in. The rest I'd say most of it are using quite high quality components already. Eg High quality pots, electrolytics using nichicon and some cornell dubelliar caps.. so I'm gonna focus on the 4 points mentioned above first before venturing to other options.
anyhow any suggestions and opinions are welcome.