This is just an area I can blab on about stuff without it using up bandwidth in the threads
Hopefully someone will find it interesting or useful.
Tony.
Getting started again is harder than I imagined!
Posted 8th January 2011 at 01:09 PM by
wintermute
Updated 18th January 2011 at 11:45 AM by
wintermute
(audigy now working reliably!)
---
It seems I have been doomed to not do any of my DIY projects since my main computers hard drive crashed followed shortly after by my laptops (the laptop has had another crash after that, and the drive is now on the way out again!!)
After having to pull the cables out of my chipamp last week and plug the TV into it (because the MythTV box refused to play a DVD and I can't plug the DV18 DVD player direct to the chipamp because it has no volume control) I decided I had better get off my backside and finish my pre/active crossover. I had to do it again tonight as well (plug the tv into the chipamp), sigh...
This is all because my playmaster had something in the pre die again and is only working on one channel and I just haven't been bothered fixing it. I thought that being inconvenienced might make me more likely to finish the other projects but it has been broken for about 6 months
So on Monday I decided that I should re-install Holm-Impulse and various other bits of software and do some measurements of my Vifa subs and work out the final settings for the Synergy crossover. But first I thought I'd just load up the existing measurements of the MTM's and use the M26WR measurements that came with Jeff Bagby's crossover simulator for the subs (after all they are the same drivers) to get a rough idea of what I was in for....
Problem was I couldn't find the backups for the Holm measurements...
After much stuffing around trying to find them on the crashed disk, I realised that the backup I had wasn't in fact the latest and I eventually found them on another disk stashed away.
I did some sims late this week and it looks like to get the 2nd order crossover at 300Hz I'll need to have a lower cross point on the MTM's than I'd planned.. probably about 200Hz (with the woofers at 340Hz), but the good thing is it looks like it will be a very smooth transition, these electrical 2nd order cross points give a near perfect acoustic 2nd order LR at about 300Hz (acording to the sim). Yes I've gone back to LR, the 1.5DB hump from the bessel just didn't look right.... The response looks flat enough even with the electrical 300Hz for both, but the phase doesn't match well, I tweaked till I got a good phase match through the crossover region.
Below is the simulated response (note that everything above about 500Hz is real measured response.
So the latest drama was today I decided to set up holm impulse on the new windows 7 64bit machine. I tried to calibrate it and it gave absolute garbage with my Audigy II ZS. Tried the inbuilt soundcard and it looked fine.
However RMAA doesn't think too much of the internal sound card though so I decided to persevere with the Audigy. RMAA spat the dummy with it as well!
After quite a lot of trial and error (and wondering whether RMAA just didn't work with windows 7 64 bit), I got something that works. Setting both output and input to 96Khz 24bit and dropping the line in level (on the speaker out page and on the recording page) to 38 seems to have fixed it. Now I'm getting good results in RMAA and also get a clean recording (most of the time) in holm impulse. I Still can't get a clean calibration but it is pretty good so probably don't need it. Pperhaps a bit further drop of the levels might work.
Below is a screenshot of the rmaa results:
and one of the holm measurement with a loopback cable.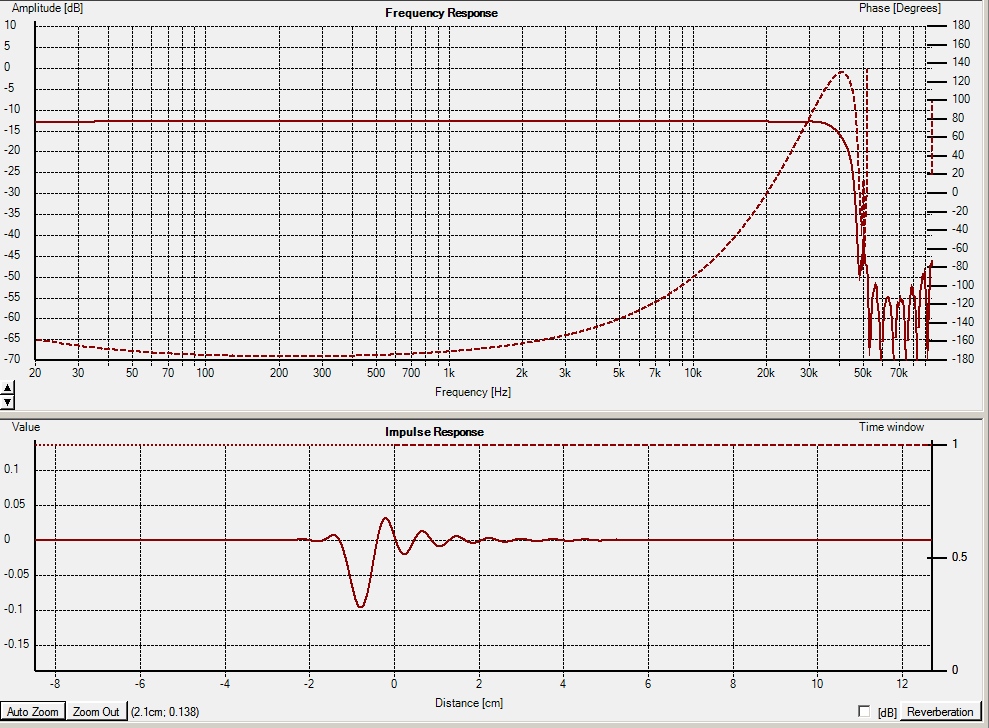 If anyone has an Audigy II ZS that they can't get to work properly with Windows 7, give me a yell, with some tinkering it should be possible
edit: 2011-01-11 I've changed my mind on this, it appears to work only sporadically, something wrong with either the hardware or the drivers. I gave up and used the on board sound! It just wouldn't work the following day. OK another update. 2011-01-18 Have the Audigy working seemingly reliably! The trick was to use SPDIF OUT as the output in holm impulse, don't understand why but seems to do the trick. Get good results with RMAA as well.
Maybe tomorrow I might be able to get a clean nearfield measurement of my subs, only bit that is bugging me about that is the fact that the are ported and have two ports.. I guess I'll get to try out the summing in Holm impulse!
update: 2011-01-11: below is an image of the nearfield measurement of the sub. The orange trace is the model from unibox and the blue is the actual measurement (after doing it the right way, thanks Terry!) I've discovered that things aren't working quite as they should be.. the box tuning is off (the sim has been done with what is there not what was deigned) and it looks like my lining is acting more like stuffing. more experiments to do.
Tony.
Comments