Doping of cloth surrounds on recone of subwoofer
Posted 14th May 2013 at 12:32 PM by
googlyone
---
Well, you learn something every day. I suppose if you don't manage to learn as you go, then you probably stuff things up every day!!!
About 12 months ago I came across some RCF L18/551 eighteen inch subwoofer baskets. I reconed them using aftermarket parts, the process went OK but I was kind of bemused by the untreated cloth surrounds.
I was busy, and had no immediate plans so the drivers were shelved for a rainy day.
The Thielie and Small parameters were "OK" but not exact as OEM. I measured these using the addded mass method, an important fact for later. As an aside, they would do well enough as subs, but their Fs was a bit higher than I would have hoped.
Fast forward to last week, I loaded one into a 220 litre box tuned to 34Hz, and measured the impedance.
Bugger me if the resonance showed one massive peak at pretty much the driver Fs, and a tiny lump out at 80Hz. Huh?
I swapped drivers and got pretty much the same. I started to wonder if some technophile jester had snuck in and taken the back off the sub or hacked into my measurement computer...
At risk of telling you how to suck eggs, I was looking for two fairly equal peaks in the impedance, one way down toward 20Hz and one much higher. Some bastard had stolen my impedance peak, and moved the one that was left!!!
After a lot of wondering, I concluded that the rather narrow slot port I had used was - well - too narrow and was not acting as the port I thought it was.
Since I was tired, and maybe because I had a beer in my hand, I blocked off the slot port and cut two round 90mm dia, 88m long, ports into the front of the box. Not what I wanted - especially since deep in the cockles of my heart I knew that the slot port was working.
Anyway, new ports added - slot and "corner free" and - damn the impedance was identical. As I stood there cursing my stupidity I looked at the recalcitrant driver with the silly yellow cloth surround...
And it sunk in.
The untreated cloth surround was so lossy that it had completely detuned the box. Not a little bit detuned, not a slight shift in resonance. No resonance at all!!!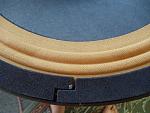 As you can see in the picture it really is open weave cloth.
I had recently reconed some BEYMA drivers, and by chance had a couple of bottles of doping compound in the cupboard. As you do.
A quick coat of this, and I simply dropped the driver into place vertically and measured the impedance.
Hey presto, the thief had put the impedance peaks back where they belonged!
I guess the lessons in this are:
- When something in your gut says "hey this is rubbish.." listen to it.
- Untreated cloth surrounds can be really - really lossy.
- I am a complete pillock.
Or to state the obvious, a loudspeaker is an electro-mechanical system. Most applications of loudspeakers result in resonant systems, and losses in these matter an awful lot.
- The added mass method of evaluating the T&S parameters is rather insensitive to these losses.
- If I had used the test box method, I would have probably clicked on the issue right up front, I hope. Else I would have come up with rubbish T&S values...
- Refer above, I am a pillock
Comments
Posted 20th May 2013 at 09:52 PM by

Roj